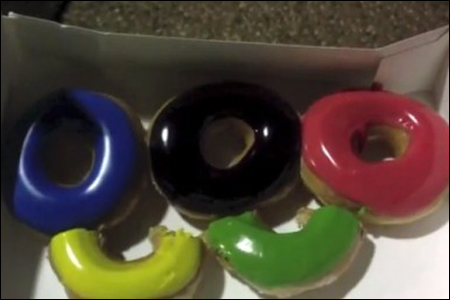 This is amusing and awesome... Blogger Jia Jang is on a 100-day quest to overcome his fear of rejection by making at least one crazy request a day, and chronicling the journey on his blog,
100 Days of Rejection Therapy
.
On Day 3, he walked up to a Krispy Kreme counter in Austin and made an order he thought would get denied on the spot: five doughnuts linked together in the colors and shape of the Olympic symbol. Much to his surprise, a resourceful Krispy Kreme employee named Jackie made it happen:
Sweet Krispy Kreme worker surprises man on quest for rejection
.
Watch the
video
:
As Kal Penn once said, "Donuts are awesome." And Jackie is awesome. Talk about going beyond the call of donut duty. Give that lady a raise!