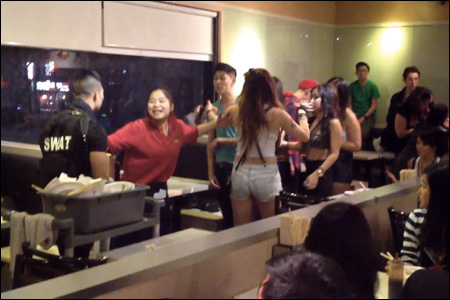 In Toronto, a suspect has been arrested in connection with last weekend's
crazy plate-throwing brawl
at a pho restaurant in Chinatown:
Man charged with throwing plate in Chinatown brawl
.
28-year-old Aenoy Vilaysane, who was caught on video throwing a plate that shattered on a woman's face, reportedly surrendered to police on Friday. He was charged with assault with a weapon and weapons dangerous. If you've seen the
video
, he's the guy wearing the "SWAT" team costume:
The altercation was apparently sparked by a seating disagreement, but quickly escalated into a Battle Royale that saw women trading punches and pushing each other.

At one point, a dinner plate is seen whizzing through the air, striking a young woman in the face. Toronto police say she required several stitches as a result.

To add to the video's bizarre scene, several of those involved in the scuffle were wearing Halloween costumes.

Police say the man who threw the plate was dressed as a member of a "SWAT" team, wearing a black shirt, black pants and a holster.
All this over things getting too crowded at a restaurant. I hope the pho at that place is worth it. Congratulations, dude. Thanks to the internet, you're officially the most famous guy who's ever thrown a plate at someone's face. More here:
Viral Toronto Chinatown fight videos aid in arrest
.