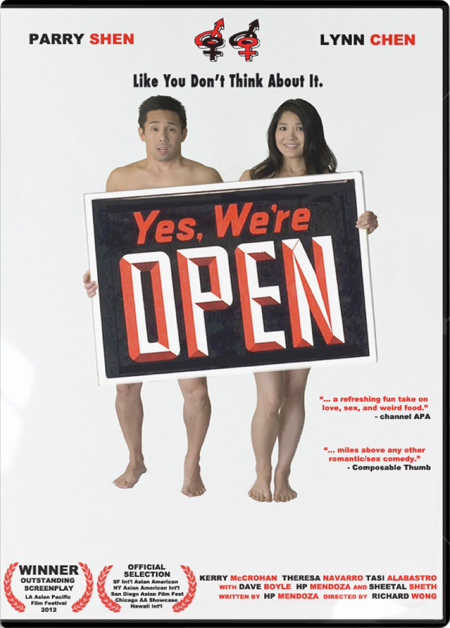 Film lovers. Something for you. The indie sex comedy
Yes, We're Open
is now available on DVD and Digital Download. You've heard me rave about it. If you missed it on the festival circuit, now's the chance to watch it from the comfort of your couch or, heck, even your handheld device. It's the future.
Lynn Chen and Parry Shen star as Sylvia and Luke, a seemingly liberal San Francisco couple who reconsider just how modern a lifestyle they actually lead when they meet a provocative polyamorous couple. With temptation around the corner, Luke and Sylvia must figure out where they really stand on love, sex, and honesty.
Want to win a copy of the DVD? Scroll down. But first, here's the
trailer
:
They're self-distributing the film in partnership with Cherry Sky Films. Get yourself the DVD for just ten bucks, or a digital download for five bucks --
directly from the filmmakers
.
Of if you'd like to try your luck, our good friend Lynn Chen is
giving away
four DVD copies of
Yes, We're Open
on her blog,
The Actor's Diet
. Just head over and login to the giveaway widget at the bottom of the post. The giveaway ends on November 20. Good luck!