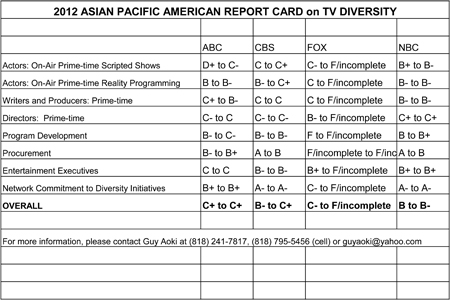 The Asian Pacific American Media Coalition recently issued its annual report card grading the top four television networks on their efforts to include Asian Pacific Americans in their programming and business dealings.
And while diversity on prime time network television has had some small gains and setbacks, for the first time ever, one network failed:
Fox Receives F/Incomplete In Asian Pacific American Media Coalition's Annual Television Report Card
.
Whaaaaaat. While ABC, CBS and NBC were all cooperative, Fox apparently failed to provide the data the APAMC requested. Hey, if you don't show up to take the test... As a result, for the 2011-2012 season, the Coalition had to give the network an F. That's F for fail -- and for us Asians, that's not cool.
Ironically, Fox is the only network with an Asian American as the main star of a show --
The Minday Project
, created by and starring Mindy Kaling. Heck, the show is named after her (and it's pretty damn funny).
Here's an excerpt of how APAMC graded the other networks:
Overall, NBC, with a B- (down one notch from last year's B), again ranked highest overall in this year's APAMC report card, which marks the 11th anniversary of judging the inclusion of APAs in eight categories: actors, unscripted (reality) show participants, writers/producers, directors, development, procurement, executives, and network initiatives.

Out of 12 report cards since 2001, NBC has received the highest overall grade 8 times (3 of them ties with other networks). This past season, the peacock network also had the highest grade for actors, directors, development deals, and executives, and tied for top honors in reality participants, writers/producers and diversity initiatives. But for scripted shows, NBC went from 13 regular and 16 recurring roles for APAs in 2010-2011, to 13 regular and only 8 recurring roles in 2011-2012. Unfortunately, we are expecting the number of APA regulars for this current season to drop to just 8.

The coalition is concerned that both NBC and CBS fell a full grade (from A to B) for procurement from APA-owned businesses.

Overall, CBS slid from a B- to a C+. It made a significant leap in actors from 6 regulars; 25 recurring to 10 regulars; 21 recurring-an all-time high for the network. Although Masi Oka was added to the opening credits of "Hawaii Five-O," he and fellow regular Grace Park (and possibly Daniel Dae Kim) got less screen time than unofficial regular Lauren German. And despite the coalition's repeatedly expressed concerns, the show has continued to cast APAs mostly as suspects or villains, and most of the guest stars (including cops, sympathetic victims and their families) are white and from the mainland.

CBS also continues to be dragged down in this category by the problematic Han Lee character in the sitcom "Two Broke Girls." Despite promises that the character would be "dimensionalized" over time, Lee continues to be the recipient of emasculating, racially-tinged put downs ("a well-behaved boy," "a woman"). As a result, CBS's actors grade rose from a C to just a C+.

However, CBS continued to tie with NBC for the top grade of A- for network commitment to the diversity initiatives. In August, CBS sent creative executives to Hawaii to conduct casting and workshop sessions with local actors to try to develop them so they could be used on "Five-O," which would truly capture the essence of the people of the 50th state. And for the second year, CBS President Nina Tassler hosted a meeting with the heads of the multi-ethnic coalitions and writers/producers of the network's shows to discuss how they can better include people of color (POC) in their programming.

ABC maintained an overall grade of C+. The alphabet network did improve slightly in the categories of actors (from D+ to C-) and directors (C- to C), and tied with NBC for highest grade in reality participants and writers/producers (both B-). ABC also had the highest score (a B+) among the networks for procurement. But since the diversity-filled series "Lost" ended its run, ABC has continued to lag behind the other networks in APA actors in regular roles in prime time. Also alarming, they fell a full grade (B- to C-) in development deals with APA writers/producers.
I'm curious why, after all these years, the Media Coalition still hasn't included the CW on its diversity report card. And as scripted cable shows continue to gain popularity and prestige, it might be a good idea to start looking more closely at cable programming for these diversity evaluations.
There's still a lot of room for improvement, but damn, things have definitely changed since the lone five Asians that were on TV when I first started this blog. Read the Asian Pacific American Media Coalition's press release and report card
here
.