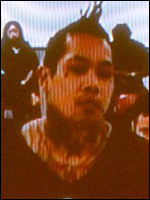 Crazy news out of Southern California... this week, police arrested four suspects in connection with a quadruple homicide at a house Northridge:
4 arrested in Las Vegas in Northridge slayings
.
Two men and two women were found
shot dead
last weekend in an illegal boarding house in San Fernando Valley. Three of the bodies were found face-down, and the victims appeared to have been shot at close range.
On Tuesday, Los Angeles police detectives arrested four people, identified as Ka Pasasouk, Howard Alcantara, Donna Rabulan and Christina Neal, at a Las Vegas casino in connection with the murders.
The attack allegedly was sparked by a dispute over personal property.
Officers went to the home in the 17400 block of Devonshire Street about 4:25 a.m. Sunday after a 911 caller reported hearing yelling and shots fired, police said. Authorities found four people — two men and two women — shot dead outside.

Three of the victims — a man and two women — were shot on the walkway on the left side of the home, a source familiar with the case told The Times on Monday. They were wearing hooded sweat shirts and were about two feet apart. All three had at least one bullet wound to the head.

One victim was crumpled on her knees, the source said, her face buried in the palms of her hands, "almost like she was praying." The other two victims on the walkway were face down.

The fourth victim — a man — was farther away and appeared as if he was trying to run to the backyard when he was shot. He had at least one gunshot wound, according to the source.

"It looked like a quick kill," said the source, who spoke on the condition of anonymity because the case is ongoing.

The names of the victims have not been released. Police said the women were in their mid-20s; one man was in his mid-30s and the other man in his late 40s.

Pasasouk, who apparently has an extensive criminal past, was arrested on suspicion of murder. The three others face charges of aiding a felon and robbery. More here:
Suspect in Northridge killings had violated probation
.
UPDATE: The family of Jennifer Kim, one of the four murder victims found in the Northridge house, are raising funds to give her a proper funeral:
Donations for Jennifer Kim
.