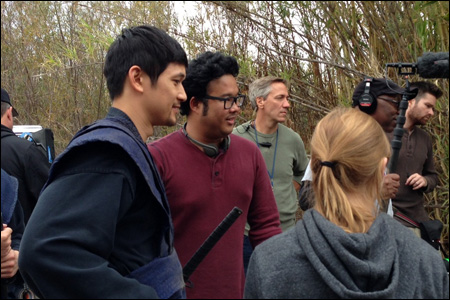 This week, Warner Brothers announced that production on the second season of the hit action web series
Mortal Kombat: Legacy
is underway, and will premiere exclusively on Machinima in the second quarter of 2013.
Based on the popular fighting video game franchise, the series is directed by Kevin Tancharoen and stars Harry Shum Jr. as Kuai Liang, Casper Van Dien as Johnny Cage, Brian Tee as Liu Kang, Ian Anthony Dale as Scorpion, and Cary Tagawa(!) as Shang Tsung.
From Warner Brothers'
press release
:
The first season of "Mortal Kombat: Legacy" was one of the most-viewed web series of 2011 with more than 60 million views to date on Machinima. In the second season the saga continues as Liu Kang and Ermac join the ranks of fighters introduced in the first season of the web series including Kenshi, Kung Lao, Kuai Lang, Stryker, Kitana, Mileena, Johnny Cage, Scorpion and Sub Zero. This new season will uncover the rivalries and histories of these fierce warriors as Raiden and his recruits clash against the dark forces of Outworld. The epic battle for Earthrealm has finally begun!

"Fans are in for a real treat with the second season of Mortal Kombat: Legacy," said Tancharoen. "With added visual effects and storylines that dive deeper into our warriors as they make their way to the tournament, we're taking this series to a whole new level. I'm really looking forward to showing fans the first clip during the Streamy Awards on February 17. "

"Mortal Kombat: Legacy 2" features stars from television and film - many of whom have real-world martial arts experience. The cast includes Harry Shum, Jr. ("Glee") as the warlord adviser "Kuai Liang," Casper Van Dien ("Starship Troopers") as martial arts film actor "Johnny Cage," Brian Tee ("The Wolverine") as Shaolin Monk "Liu Kang," Mark Dacascos ("Cradle 2 the Grave ") as "Kung Lao" - a close friend of "Liu Kang," Ian Anthony Dale ("Hawaii Five-O") returns as the resurrected ninja "Scorpion," and reprising his role he made famous in the "Mortal Kombat" theatrical release - Cary Tagawa as the powerful, arrogant sorcerer "Shang Tsung."
I love that they got perennial Asian bad guy Cary Tagawa as the villainous Shang Tsung, reprising his role in the 1995
Mortal Kombat
movie.
Mortal Kombat
was always kind of goofy game, bloody violence and all. But I really liked what Kevin Tancharoen and Co. did to revive the franchise last year with
Legacy
. Fun stuff. If you haven't seen it, the whole first season is available for viewing on
YouTube
.