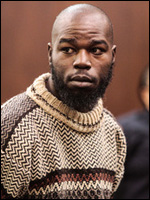 Last week in New York, a grand jury indicted the man accused of pushing another man to his death in front of an oncoming subway train:
NYC subway push slaying suspect Naeem Davis indicted
.
30-year-old Naeem Davis is charged with the murder of Ki-Suk Han of Queens. The two reportedly got into an argument at the 49th street station before Davis shoved Han
onto the subway tracks
, where he was killed by an oncoming midtown train.
Davis claims that "voices in his head" made him do it:
Police say Davis watched the train strike Han before leaving the subway station near Times Square.

Davis has admitted to shoving Han, but says the victim had earlier grabbed his arm and threatened him. He told the New York Post in a jailhouse interview that he was coaxed into shoving Han by voices in his head that he didn't control.

Davis is being held without bail and must return to court on Jan. 15.
Davis is charged with intentional murder and murder through depraved indifference. He will be arraigned on January 15. More here:
Alleged Subway Shover Indicted in Death of Queens Father
.