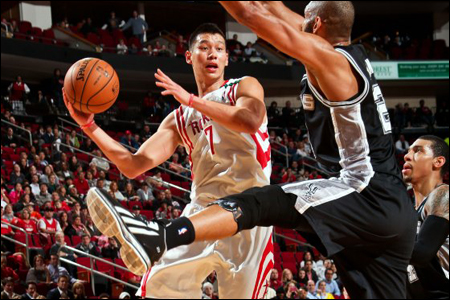 Remember Linsanity? Well, we got to see some of that Linsanity we know and love last night, as Jeremy Lin scored a career-high tying 38 points. Alas, it wasn't enough to get the team on top, and the Rockets lost to the Spurs in overtime, 134-126:
Jeremy Lin recaptures Linsanity in loss to Spurs
.
With teammate James Harden sitting out with a sprained ankle, Jeremy stepped up and made us remember what we loved so much about his meteoric rise into the spotlight with the Knicks earlier this year. Yes, you remember the feeling. Here's
video
of the highlights:
Damn, nice to see Jeremy with a little bit of that swagger back. It's been a rough start to the season, and it would have been nice to get that win... but yeah, I'll have some more of this. More here:
Lin-sational in defeat, Lin turns it on
.