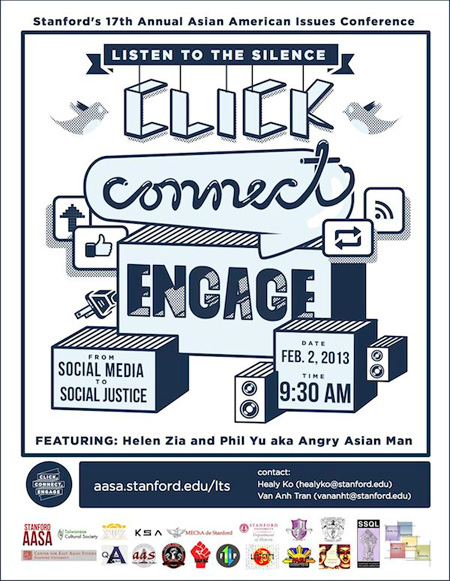 Social media and social justice fans! It's time to click, connect, and engage.
Listen to the Silence
, Stanford University's annual Asian American issues conference, tackles these topics and more on Saturday, February 2, at the Cubberley Auditorium. Activist, lawyer, journalist and my hero Helen Zia will be there, and I'll have the honor of delivering closing remarks. Here's a breakdown of the day:
LISTEN TO THE SILENCE
Click, Connect, Engage: From Social Media to Social Justice
Date: Saturday, February 2, 2013
Time: 9:30 AM
Location: Cubberley Auditorium, Stanford University

REMEMBER TO REGISTER ONLINE for free at: http://aasa.stanford.edu/lts/registration.html.

Schedule:
9:30-10am Check-in
10-10:30am Opening statements
10:30-11:45am First round of workshops
11:45-12:45pm Lunch/Research Forum/Activities Fair
12:45-1:45pm Opening Speaker
1:45-1:55pm Break
1:55-3:10pm Second round
3:10-3:20pm Break
3:20-4:35pm Third round
4:35-5pm Fun/Discussion Round
5-6pm Dinner
6-6:45pm Closing Speaker
7PM-8:30pm Concert Featuring Youtube Sensation: Joseph Vincent

This year's conference, "Click, Connect, Engage: From Social Media to Social Justice", aims to provide an avenue through which the Asian American community can better utilize social and new media to enact meaningful social change within and beyond the community through activism, grassroots mobilization, and coalition building.

We hope this conference will provide an outlet to discuss the role of Asian Americans in these online spheres and empower the community to effectively take advantage of this new frontier for social justice.

The event is free, but you gotta register
here
. For more information about Listen to the Silence, visit the
conference website
. And watch this
promo video
. See you there.