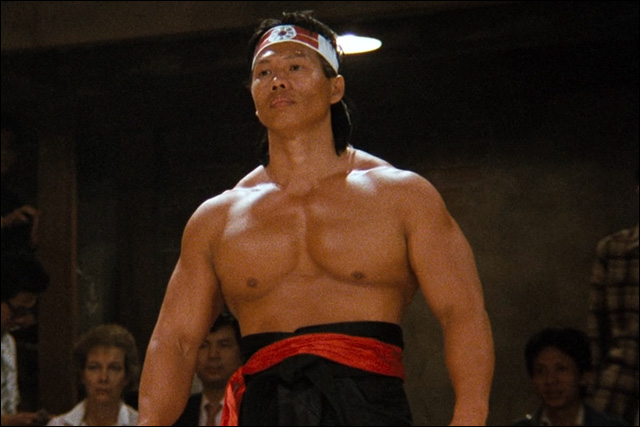 Our friend Stephen of National Film Society is on a quest to find a very special Awesome Asian Bad Guy.
Last year my
National Film Society
partner Patrick and I successfully raised funds on Kickstarter for our action comedy web series
Awesome Asian Bad Guys
. The story follows a pair of filmmakers, a volatile group of Asian bad guys and an impossible mission.
As we fine tune the script and look to get ready to go into production, we're super excited about the bad guys we already have in place, namely Al Leong (
Die Hard
,
Big Trouble in Little China
) and Yuji Okumoto (
The Karate Kid Part II
). We've also got Tamlyn Tomita, Randall Park, Aaron Takahashi and Dante Basco! But we really want to make this project as awesome as possible and see if we can get more cool bad guys involved. One person high on our wish list is the one and only
Bolo Yeung
.
Who is Bolo? Only the buffest Asian bad guy ever! He starred as Chong Li in
Bloodsport
with Jean-Claude Van Damme. He's also well known for being the villainous Han's back-breaking enforcer in
Enter the Dragon
.
Through a friend, I've heard that Bolo lives in the Los Angeles area. This is awesome because that's where we're based and will be shooting the series. But the problem is that I have no way of getting in touch with him, short of trying to somehow stalk him.
That's why I'm reaching out to you. If you know how to get in touch with Bolo, please let us know! We'd love your help!
Here's our email address:
hello@nationalfilmsociety.com
Thanks!
Stephen
Stephen Dypiangco is the co-founder of the National Film Society, a new media studio that produces web videos about movies, filmmaking and pop culture.