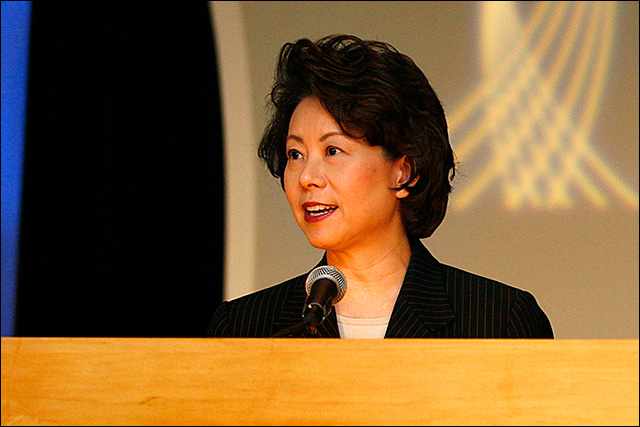 I've got little love for Elaine Chao, but this racist bullshit. In Kentucky, a liberal super PAC is under fire for tweets attacking Senate Minority Leader Mitch McConnell's wife, former Labor Secretary Elaine Chao:
Liberal Super PAC Sends Racist Tweet About Mitch McConnell's Chinese Wife
.
McConnell (R-KY) is running for re-election in 2013. Progress Kentucky, a super PAC focused on defeating McConnell, posted multiple tweets highlighting Elaine Chao's Chinese heritage, going as far as blaming her cultural ties for the outsourcing of Kentucky jobs and the growth of industrial China: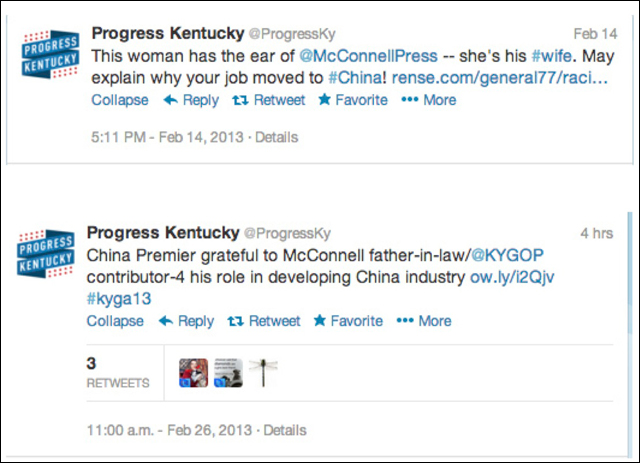 It should noted that Chao was born in Taiwan and immigrated to the United States with her family as a child. She served as the 24th United States Secretary of Labor, from 2001 to 2009, and was the first Asian American woman and first Chinese American to be appointed to a President's cabinet in American history. I can't say I agreed with many of her actions while serving in this position, but these are the facts.
However, all that really seems to matter to Progress Kentucky that she's a Chinese woman married to American politician. Must be something shady! When it comes to campaigns, you can always count on the cheap anti-Chinese attacks. No reason why Democrats can't get in on this racist bullshit too!
Progress Kentucky initially defended the tweets, denying any sort of race-baiting. But under the weight of mounting criticism, it didn't take long for the group to backtrack. Progress Kentucky has since apologized and deleted the tweets in question. More here:
Liberal Super PAC's Twitter Rant Attacks Mitch McConnell for 'Chinese' Wife
.