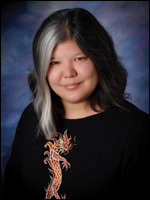 Almost missed this bit of movie news from a couple of weeks ago... Universal recently picked up the rights to a fantasy book series proposal from hot author Julie Kagawa:
Fantasy Author Julie Kagawa Sells New Book Series to Universal
.
Young adult imprint HarlequinTEEN recently signed a seven-figure deal with Kagawa for the untitled new fantasy series, based on a 104-page proposal revolving around mythical creatures in a contemporary setting.
Chris Morgan, best known for writing Universal's
Fast & Furious
movies, is on board to produce:
The supernatural story is set in a present-day coastal town where mythical creatures hide amongst us cloaked as humans. Slayers belonging to an order that dates back to St. George infiltrate the town disguised as out-of-town kids, setting up a confrontation and, as is the case with YA books, a love triangle.

The 104-page proposal was described as strong in execution. The deal went down late Thursday.

Harlequin TEEN-- in a seven-figure, five-book deal -- picked up book rights in January for its young-adult imprint. The first book is to be released in 2015.

I'm not familiar with Kagawa's work -- I'm not really the target audience -- but she's apparently a pretty big deal in the young adult fantasy world. Her next novel,
The Eternity Cure
(book two in her dystopian vampire series "Blood of Eden") launches in May. Learn more about Julie Kagawa's books on her
official website
.