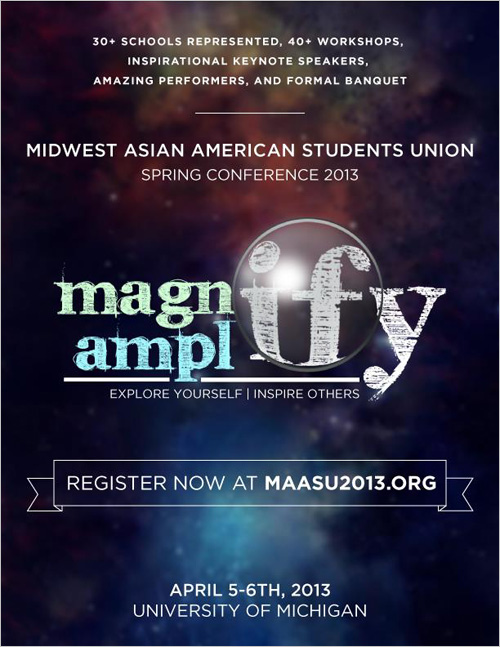 Think fast, Midwest. MAASU (Midwest Asian American Students Union) is having its annual
Spring Conference
on April 5-6 at the University of Michigan. The theme this year is "Magnify: Explore Yourself/Amplify: Inspire Others," and includes workshops, speakers, and special performances. Here's some more info:
Midwest Asian American Students Union (MAASU) Spring Conference 2013*

"Magnify: Explore Yourself/Amplify: Inspire Others"

Location: University of Michigan- Ann Arbor, MI
Date: April 5-6, 2013

In our community today, many students have difficultly creating a solid
identify for themselves. Without identity, a sense of community is evasive.
As a result of this obstacle, becoming civically engaged is increasingly
difficult. Through the keynote speakers, workshops, and facilitated
discussions at MAASU SC 2013, conference participants will have an
unparalleled opportunity to gain valuable knowledge about themselves and
establish their own identity. Upon returning to their respective
communities, we hope participants will use what they have gained in order
to create a meaningful impact and inspire others to take their own
initiative.

Performers: Paul Kim, Jeni Suk, and many others, including talent from the
student body!

Speakers: Dan Nainan, George Dong

We have an incredible variety of workshops, over 50 in total! Ranging from
entertainment and media to redefining the concept of A/PIA to utilizing
your own knowledge (magnifying your talents and amplifying your expertise),
the options are truly limitless.

For more information, visit the MAASU website at www.maasu2013.org or visit
our Facebook page at www.facebook.com/MAASU2013 for frequent updates.

Get registered. You can sign up
here
and check out the
Facebook page
for further updates.