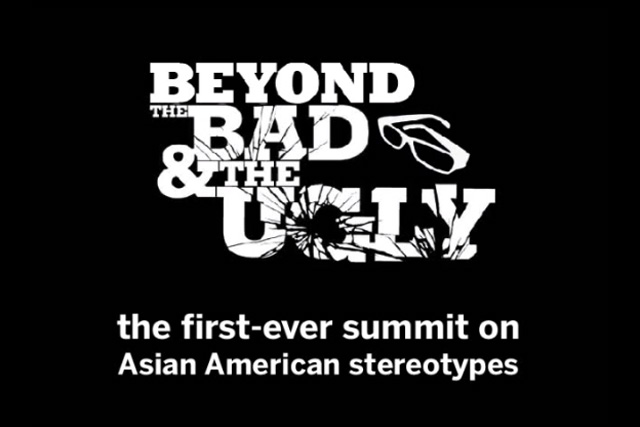 If you're in Southern California, make plans to join an amazing assortment of stereotype-busting personalities and conversations at the
Beyond the Bad & The Ugly
, the first-ever Asian American summit on stereotypes, happening March 23 at the Japanese American National Museum in Los Angeles. Organized by Jeff Yang, the gathering will include actors, filmmakers, bloggers, poets, activists and more. Even an adult film star. Here are some more details about the event:
Beyond the Bad and the Ugly: Stereotypes and Asian American Pop Culture - A Summit

Saturday, March 23
9:00 am - 6:30 pm

Japanese American National Museum
100 N Central Ave.
Los Angeles, California 90012

n 1914, Sessue Hayakawa became the first Asian American actor to break through on the silver screen, appearing in movie pioneer Thomas Ince's silent classic The Typhoon, and launching a career as one of the most popular and well-paid stars in the nascent Hollywood industry, albeit in roles that consistently depicted him as villainous, violent and manipulative. As he put it himself, "I want to be shown as I really am, and not as fiction paints me….My one ambition is to play a hero."

Ninety-nine years later, Asians and Asian Americans have a much greater presence in U.S. popular culture — but they are often represented in ways that Hayakawa would recognize and lament: Silent thugs. Sexless nerds. Predatory temptresses, calculating conspirators and impossibly strange foreigners.

Organized by Jeff Yang, Wall Street Journal Online columnist and editor-in-chief of the new graphic novel anthology SHATTERED, which uses the medium of the comics to explore and explode unyielding stereotypes of Asians in pop culture, BEYOND THE BAD AND THE UGLY gathers together some of the brightest and most interesting Asian American creators, and critics, activists and academics in a unique one-day summit that begins by looking back at the heritage of Asian images in American media and society, and ends by looking ahead — discussing new ways to prevent distortions and present more vivid, humanized, three-dimensional portraits of Asians and Asian Americans to a wider and more accepting audience.

Space is limited, so be sure to purchase your tickets
here
. For further information, visit the
JANM website
or check out the
Facebook
. If you're not in the area, but still want to see the event, there's an
Indiegogo
campaign raising funds to get the "Beyond the Bad & the Ugly" summit live streamed and archived online. Contribute
here
to help make that happen.