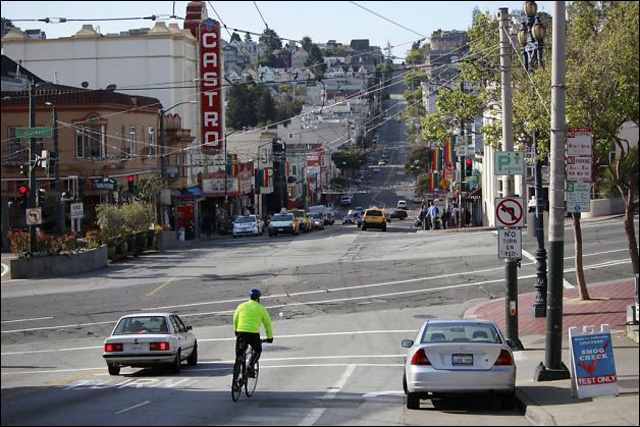 Revisiting this case... Remember that accident last year in San Francisco, where a speeding bicyclist plowed through a crowded crosswalk and
fatally struck
an elderly pedestrian? The cyclist will be tried for felony gross vehicular manslaughter:
SF bicyclist faces manslaughter trial
.
Last week in San Francisco Superior Court, a judge ruled that 36-year-old Chris Bucchere should face the felony charge for the collision that killed 71-year-old Sutchi Hui, who was walking with wife this through the intersection of Castro and Market streets when he was hit in March 2012:
During the first day of the preliminary hearing Wednesday, prosecutor Omid Talai called several witnesses who described seeing Bucchere speeding through red lights and stop signs before arriving at Market. He did not appear to slow down as he approached the crosswalk, they testified.

Both sides debated, down to the second, the moment when the light turned red and Bucchere entered the intersection. A traffic expert and witness for the prosecution, Michael Mahoney, said his analysis showed the light was red when Bucchere crossed the north crosswalk. The defense disagreed, citing a traffic light that is dimly visible in footage shot by a surveillance camera at the intersection.

The defense also said several pedestrians, including Hui, had entered the crosswalk before the walk sign was illuminated and should have yielded to traffic.

Bucchere "had the right of way," Cassman said. "The pedestrians did not."

Ironically, it says that Bucchere taught bicycle safety classes in his spare time. If convicted, he could face a maximum of six years in prison. More here:
San Francisco cyclist Chris Bucchere accused of felony manslaughter was bike safety instructor
.