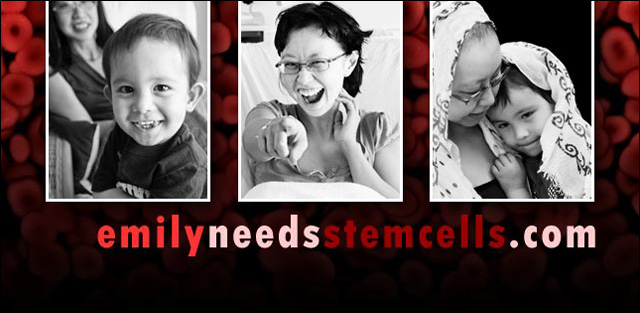 I recently heard from Emily Sun, a 36-year-old Australian woman of Chinese ancestry who has been undergoing treatment for Non-Hodgkin's Primary Mediastinal Diffuse Large B-Cell Lymphoma (PMBCL). Her chances of survival depend on an allogeneic stem cell transplant, and she is in dire need of a healthy donor.
Are you the person who could help save her life?
Here's what it comes down to:
Emily needs a stem cell donor of Asian descent.
But she's having difficulty finding a match. The donor can be from anywhere in the world, but a match would more likely be found in someone of Chinese, Taiwanese, Japanese, Korean, Malaysian, Vietnamese, or Singaporean descent. In Australia, the donor should be under 45, either male or female, but the match can be made worldwide.
And here's what you can do to help: If you are of Asian descent, you can register with your country's local database. Here in the United States, you can register with the
Asian American Donor Program
and the
National Marrow Donor Program
. The test is free and simple, and you could help Emily or someone else in serious need, here and abroad.
For more information Emily's situation, and what you can do to help, visit
Emily Needs Stem Cells
.