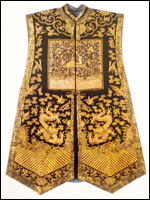 What's up with the Tacoma Art Museum selling off donated items from its Chinese collection? 35 years ago, the Young family donated their trove of Chinese art to the museum. But most of the collection was recently auctioned off to the highest bidder:
Tacoma Art Museum auction of Chinese collection upsets donors
.
Not surprisingly, the donors are not cool with this. Al Young, whose parents donated their collection of Qing Dynasty robes and jades to the museum in the 1970s, says the items were a gift to the Northwest community. But now the items being cleared out from the museum, with the remainder of the Young collection to be auctioned off soon.
Al Young, a retired schoolteacher, says he's flabbergasted that his parents' treasures are being sold off into private hands.

"Those things were gifted to Tacoma and to the Northwest so that we can see examples of Chinese art," he said. "Now they're going to be gone forever. And they're just being used for currency."

The items obviously mean a lot to his family. After retiring from the restaurant business in San Francisco, John and Mary Young traveled overseas, collecting Chinese art along the way. Both have since passed away. Al Young said the robes were spectacular examples of embroidery from the Qing Dynasty, which ended in the early 1900s.

"Some of the robes took maybe a year to make and 20 people to make them," he said. "These are irreplaceable. Nobody ever does anything that crazy anymore."

The museum will apparently be using the cash from the "deaccessorized" items to boost its Northwest art collections. It all seems pretty tasteless, especially considering that the Youngs originally donated their collection, in part, because of the region's history of anti-Chinese sentiment. But that's how a museum's gotta roll. More here:
Tacoma Art Museum embroiled in legal battle over sale of Chinese artifacts
.
UPDATE: The Tacoma Art Museum has reportedly reached an agreement with the Young family over the collection. The museum will donate some of the pieces to "an appropriate local institution," and continue to auction off the rest:
Tacoma Art Museum settles dispute over donated collection
.