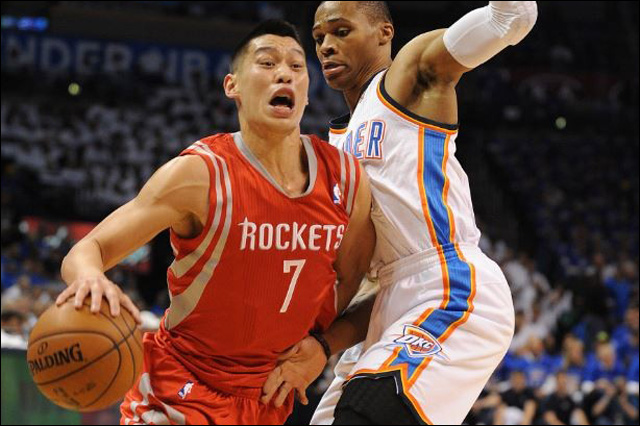 Dude. Jeremy Lin injured! On Wednesday night, Jeremy was injured during the first half of Game 2 of the Houston Rockets' playoff against Oklahoma City. Jeremy left the game holding is arm, in visible pain, and was unable to return for the second half. An MRI revealed that he had suffered a bruised right chest muscle. It's unclear how soon he can return:
Lin's status up in the air after injury
.
The 24-year-old point guard says the debilitating spasms he experienced last night have subsided; the focus now and going forward is on regaining full range of motion and strength so he can return to game action.

"It feels a lot better," Lin said Thursday afternoon after receiving various forms of treatment for his injury. "Tomorrow we're going to work on some more stuff. Today was all range of motion; tomorrow will hopefully be like some jumping and then we'll go from there.

"The worst part was (the spasms) and it's not spasming anymore. I'm really thankful for that. Now it's just getting range of motion and being pain-free."

More here:
Jeremy Lin Injury Update
.
Sucks. I'm not even sure what's wrong, but I really hope he can bounce back to play in Game 3 on Saturday. To hustle hard and make it to the playoffs, and go out like that? Gotta be frustrating. Hoping for the best.