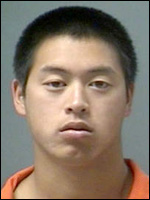 This case bums me out. This week in Illinois, a young man reached a manslaughter plea agreement in the 2011 death of a 17-year-old Chicago boy:
Plea reached in LaPorte County fatal fight
.
20-year-old James Malacek pled guilty to involuntary manslaughter, battery and aggravated battery, and agreed to serve 145 days in prison for the
fatal punch
that killed Kevin Kennelly. The rest of the four year sentence would be served on electronic monitoring.
According to police, Malacek punched Kennelly, who may have been trying to break up a fight at a 4th of July beach party. The altercation was apparently set off by racial insults -- Malacek and his sister are Korean adoptees:
Malecek, whose family also has a summer home in Long Beach, is accused of punching Kevin Kennelly during a July 4 beach party at 2611 Lakeshore Drive.

An autopsy found Kennelly, whose family also has a summer home in Long Beach, was struck in the head.

According to police, Kennelly may have been trying to break up an altercation when hit by a punch allegedly thrown by Malecek, who might have been a target of racism prior to the fight.

Malecek is of Korean descent.

According to earlier accounts of the incident, the fight started when a group of teenagers started harassing Malacek's sister about her red, white and blue bandanna -- you know, because an Asian person couldn't possibly wear the patriotic colors of America. It's a tragedy all around.
More here:
Hearing on plea deal set for Malacek
.