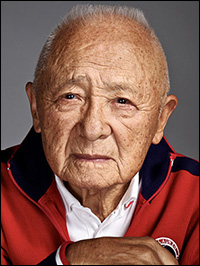 Alarming news out of Southern California... 92-year-old Dr. Samuel "Sammy" Lee, two-time gold medal-winning American diver, is missing:
Police seek missing 92-year-old
.
Police are asking for the public's help in locating Dr. Lee, who has been missing since Monday afternoon. According to a news release, Lee left his home in Huntington Beach around 3:00 pm on Monday to go swimming at the Los Caballeros Sports Club in Fountain Valley. His family has not heard from him since.
According to police, Lee used his credit card to buy gas at 8:30am this morning in Mojave, which is 130 miles north. Lee reportedly suffers from dementia and heart problems. It is believed he may be confused and lost.
Lee is described as a male Asian, 4 feet 11 and 122 pounds. He was driving a tan 2011 Mercedes 300 with a license plate of 2GOLDS.
Anyone with information about Dr. Lee's whereabouts is asked to call Detective Ellis at (714) 536-5971 or the Huntington Beach Police Department at (714) 960-8811.
UPDATE: Police have determined that Sammy Lee filled up his car at a gas station in Studio City at around 5:30pm on Tuesday night:
Missing Olympic diving champ Sammy Lee was in Studio City
.
UPDATE: Sammy Lee has reportedly been found in Pico Rivera. No immediate details about his condition, but he has been located, and his family is on their way:
Olympic gold medalist Sammy Lee found in Pico Rivera
.