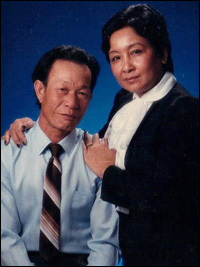 Damn. This is an awful story out of Alaska about a community rocked by the brutal murder of Cambodian couple by a stranger in their Anchorage apartment:
Slain couple were cherished elders in Cambodian community
.
Last Saturday, Touch Chea, 71, and his wife Sorn Sreap, 73, were killed by 24-year-old Jerry Andrew Active, who climbed into their home through an open window.
Active, a convicted sex offender, reportedly beat Chea and Sreap to death and sexually assaulted their 2-year-old great-granddaughter. He was arrested after a struggle with family members, who came home to find him naked with the child:
Police said the younger couple, who are in their 20s, went to a movie Saturday night with their son and left the 2-year-old in the care of Chea and Sreap.

The parents of the child and their son returned shortly before 8 p.m. and found the door locked from the inside.

They told police they forced their way in through a window and discovered the bodies of Chea and Sreap.

A man in his 20s, they said, was naked in a bedroom with their daughter.

The woman called 911and police dispatchers heard screaming over the phone. The woman reported a man had broken into her home and killed her grandmother, Sreap. The woman described the man as naked with several tattoos.

The woman, who is pregnant, and her husband tried to keep the suspect from leaving and a struggle began, Markiewicz said. The suspect, by then wearing boxer shorts, was able to get away after a few minutes of fighting, Markiewicz said.

Officers found Active about a block away.

It's sickening. Active is charged with first and second-degree murder, sexual assault and burglary. More here:
Man accused of killing Alaska couple, assaulting toddler; case's brutality shakes detectives
.
An account for funeral donations has been set up at Wells Fargo Bank under family member Pak Seng. You can also make a donation to the family of Touch Chea and Sorn Sreap through
this link
.