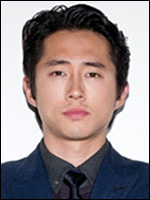 Actor Steven Yeun, who you know and love as your favorite zombie apocalypse survivor Glenn on AMC's
The Walking Dead
, has been cast in the sci-fi drama
I Origins
:
'Another Earth's Mike Cahill Sets Cast For 'I Origins.'
In the new feature from Mike Cahill, the writer/director behind the critically-acclaimed indie sci-fi character drama
Another Earth
, biologists make a startling discovery that may have far-reaching consequences for society as we know it.
No details on Steven's role, but here's a brief synopsis of
I Origins
from a previously released casting call:
This film, a second feature from award-winning, breakout filmmaker Mike Cahill (Another Earth) connects the lives of the most unlikely people from around the globe. One doctor, on the brink of a scientific discovery which will have historical ramifications, travels to India to search for the one person, a young Indian girl, who can prove or disprove his theory. The story follows the incredible journeys that bring these strangers together, and proves there is no separating matters of science and matters of the heart.

The cast also includes Archie Panjabi from
The Good Wife
. While I do love seing Steven lopping off zombie heads and romancing the farm girl, I'm looking forward to seeing him take on something fresh. I did really enjoy the thoughtful science fiction of
Another Earth
, so here's hoping this turns out cool.