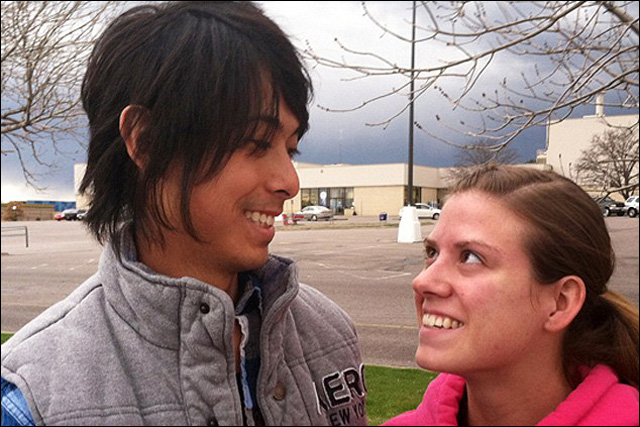 Eugene Han and Kristin Davis were among the 58 victims who were wounded during the deadly movie theater gun attack in Aurora, Colorado last July. To commemorate their survival, the couple is getting married on the one-year anniversary of the shooting:
Couple that survived Aurora movie theater shooting to marry exactly 1 year after the attack
.
Eugene was shot in the knee and hip in the attack, when alleged shooter James Holmes opened fire during a crowded midnight screening of
The Dark Knight Rises
. He still has bullet fragments inside his body. Kristine suffered scratches when Eugene pushed her to safety.
Rather than let July 20, 2012 be haunted by memories of the attack, the couple has purposely decided to associate the anniversary with a positive memory -- they're getting married:
The childhood friends have vowed to not let the attack, which killed 12 people, ruin their future lives together.

Miss Davis plans to wear her future mother-in-law's dress when the couple marry.

Mr Han told Denver Channel: 'Most days I remember it like it was yesterday. Why not make it a better day?'

The couple want to reclaim the anniversary of the shooting with a positive memory so decided to hold their wedding on July 20.

'We were talking about that word "anniversary". Honestly, I don't think it should be used for the theater shooting. It's not a good day,' Mr Han told the station.

That's awesome. After what they've gone through, this couple deserves a happy ending.