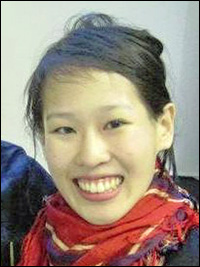 The death of a Canadian tourist Elisa Lam, whose body was found in a hotel water tank, has been officially ruled an accidental drowning:
Elisa Lam Death Accidental: LA Coroner
.
Lam, who was visiting Los Angeles from Vancouver, had been
missing
for three weeks before her body was
found in a water tank
on the roof of the Cecil Hotel. A
surveillance video
showed her acting strangely in the hotel elevator before she disappeared.
The police initially investigated Lam's disappearance as suspicious and possibly involving foul play, but the Los Angeles County Coroner has ruled that the cause of death was "accidental due to drowning, other significant conditions: bipolar disorder."
Los Angeles County coroner's officials said Thursday that Lam died of an accidental drowning. Her bipolar disorder was a significant condition but authorities did not elaborate.

Coroner's officials noted that the medical examination found no visible signs of trauma on the body and toxicology tests found nothing that contributed to her death.

Lam had been missing for three weeks before being found. During that time, detectives with the LAPD's robbery-homicide division appealed to the public for help in the case that included the release of video of her inside a Cecil Hotel elevator. In surveillance footage, Lam could be seen pushing buttons for multiple floors and at one point stepping out of the elevator and waving her arms.

The only ways to get to the roof are via a locked door that only employees have access to and a fire escape. The door is equipped with an alarm system that notifies hotel personnel if someone is on the roof, Los Angeles police Sgt. Rudy Lopez said.

Lam's bizarre behavior in the surveillance video and the mysterious circumstances around her disappearance sparked considerable speculation about how she died. Foul play or not, it's an awful tragedy -- an accidental death still leaves plenty of questions. There's still a whole lot of this that does not add up. More here:
Elisa Lam's death ruled accidental
.