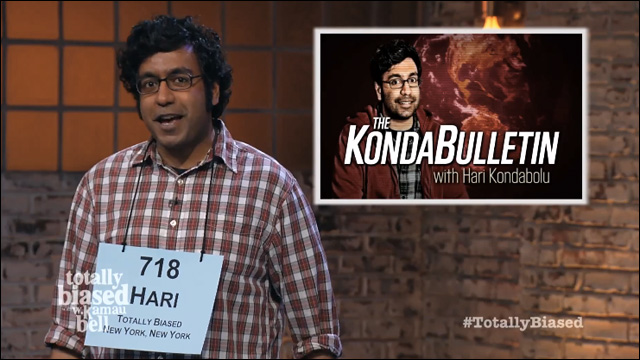 As you know, last week, Arvind Mahankali became the latest in a long line of Indian Americans kids to
win the Scripps National Spelling Bee
. That's six in a row! Which is awesome. But of course, this inspired the haters to respond on Twitter, as usual.
On this week's
Totally Biased
, comedian/writer Hari Kondabolu shows some love for the spelling bee -- aka "The Indian Super Bowl" -- and had choice some words for Arvind's detractors:
Hari Kondabolu's KondaBulletin: Spelling Bee Edition
.
Hari totally kills it, as usual. Like a G.
Totally Biased with W. Kamau Bell
, possibly my favorite show on TV right now, airs Thursdays at 11:00pm on FX. For more from Hari Kondabolu, go to his
website
.