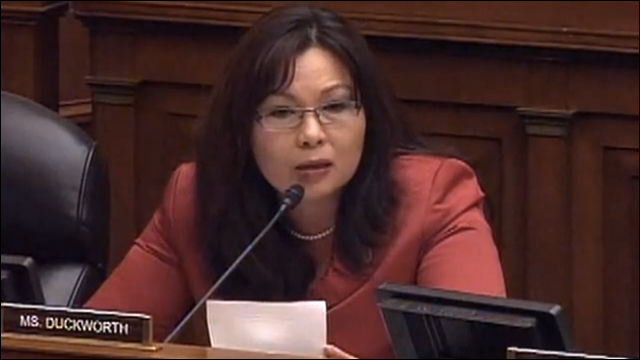 Do you want to know what congressional fury looks like? On Wednesday, Rep. Tammy Duckworth (D-Ill.), a veteran of the Iraq War, verbally dropkicked the crap out of a federal contractor who used his military disability status -- based on a prep school sports injury -- to receive government contracts reserved for disabled vets:
Tammy Duckworth Eviscerates Contractor Who Claimed Veterans Disability
.
This is a veteran you do not want to mess with. Rep. Duckworth lost both her legs and use of her right arm during her service as a combat pilot in Iraq. But this fool Braulio Castillo, who broke his foot at the U.S. Military Preparatory School nearly 30 years ago, claimed the injury in his company's application for special status as a "service-disabled veteran-owned small business." Not cool.
Watch as Ms. Duckworth
destroys
Mr. Castillo. Make sure you watch the whole thing:
Daaaaaaaamn. I don't know -- the foot injury is certainly bullshit, but after that epic asskicking, Castillo might actually qualify for disability. More here:
WATCH: Rep. Tammy Duckworth Dresses Down IRS Contractor
.
I wish the congresswoman had been holding that mic, just so she could drop it. She is my hero.