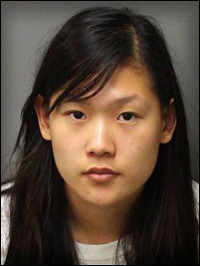 Holy crap. In Riverside, California, a college student faces several felony charges after trying to get her boyfriend to murder her ex:
UC Riverside Student Accused of Plotting to Murder Her Ex-Boyfriend
.
21-year-old Barbara Wu allegedly told her boyfriend, Dennis Lin, to kidnap her ex-boyfriend, break his legs with a baseball bat, kill him and discard the body. Realizing the holy-shit nature of the situation, her boyfriend went to the police, and recorded her discussing the murder plot.
Wu pleaded not guilty to charges of soliciting murder, stalking, online harassment, terrorist threats and other misdemeanor and felony crimes:
Wu, 22, was arrested May 23 after demanding that Lin break the legs of one of her ex-boyfriends before killing him, Lin wrote in a request for a restraining order filed the next day in Superior Court in Riverside.

""She made me promise that I would go through with it," wrote Lin, 21. "She wanted me to tie him up, use a bat to break his legs, kill him, then discard the body. She wanted us to leave the country after we did all of this to him. ... Since I'm now an ex-boyfriend who told police about her, I fear for my life."

UCR police also arrested Wu on suspicion of making terrorist threats, dissuading a witness, felony vandalism, stalking and online harassment. She pleaded not guilty to all charges May 31 and is next due in court Tuesday, June 11, for a felony settlement conference. Wu is in jail, with bail set at $500,000. She doesn't have a criminal record in Riverside County.

More here:
UCR student charged with soliciting murder
.
Based on Lin's request for a restraining order, it sounds like they had one hell of a volatile relationship. And according to Lin, she had actually talked about killing "at least two" of her ex-boyfriends. If you're one of the poor guys who was unfortunate enough to date Barbara... watch your back.