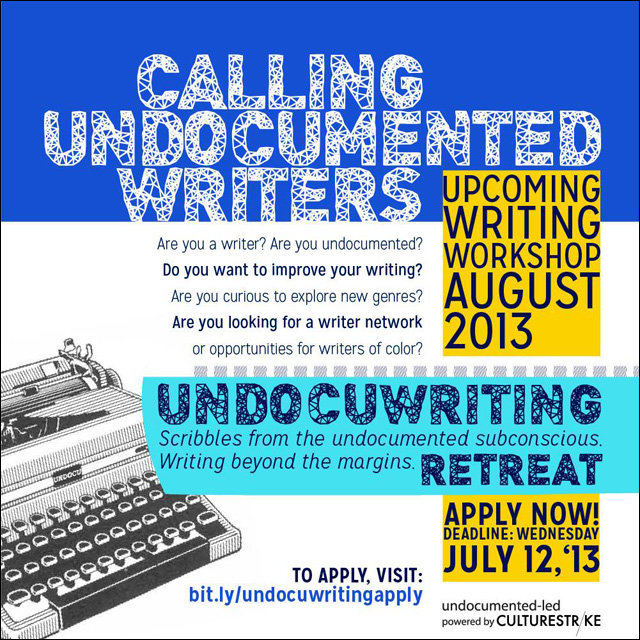 Calling undocumented writers! Apologies for the short notice, but I want to make sure you know about
UndocuWriting Retreat
, an intensive writing workshop for undocumented writers, powered by the pro-migrant arts organization CultureStr/ke. The Retreat, happening August 13-17 in Oakland, is intended to help young undocumented writers of all levels, backgrounds, and interests tell their stories.
Ten writers will be selected to participate in the retreat. Travel and lodging will be provided for all workshop participants, and there is no fee to apply. But you'll have to act fast --
the applications are due on July 12
. That's this Friday. Here are some more details about what you'll learn and experience at the retreat:
While the immigrant rights movement has grown and built tremendous power through grassroots organizing, many of our stories still remain unwritten and unspoken, our voices silenced and excluded from public conversations around what it means to live in the United States. Through this series of writing workshops, we seek to:


Foster opportunities to dig deeper into ourselves - our identities, our struggles, and our realities - and the various ways being undocumented have shaped us, and subsequently shape our writing.

Explore writing outside (but still conscious) of the realm of politics and organizing around immigrant rights; to broaden the perspectives from which we approach our writing and to allow ourselves to be read and recognized in all of our humanity.

Build a linked web of spaces of support for undocumented writers across the country, enabling us to share this form of art as a means of survival, self-care, resistance, self-expression and a tool of empowerment with our communities.


Together during this workshop, we will:


Be introduced to the literary world, where we learn about different styles of writing, read and dissect works from authors of color, share learned practices, and learn to find (or create) a welcoming writing space in your local area.

Gain much-needed access to mentors, skills and resources to grow as writers and to develop our own projects.

Work on daily writing assignments, both in groups and during independent studio time. We will also have opportunities to revise and improve current works.

Publicly read/perform our writing in a community art event at the conclusion of the workshop, and learn to speak our words into existence.

Create an anthology, a living archive of our work from the workshop to be shared between ourselves, future workshop participants, and within our communities.

Again, applications are due on midnight, Friday, July 12. Like I said, this is really short notice, but this is an awesome opportunity, and I want to make sure everyone gets to apply, even if it means a last-minute scramble to get your materials submitted. For further information on the UndocuWriting Retreat and the application process, go to the
CultureStrike website
.