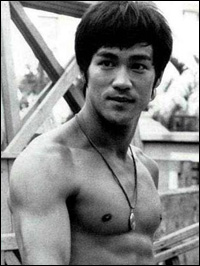 Fans of Bruce Lee know that the iconic actor and martial artist played Kato on
The Green Hornet
television series, and originally conceived the starring role that eventually went to David Carradine in
Kung Fu
. But it looks like there are plans for Bruce Lee's television legacy to live on... thanks to none other than Justin Lin.
Bruce Lee TV Project Due From Justin Lin & Bruno Wu's Perfect Storm
.
Hot off the success of
Fast & Furious 6
, director Justin Lin and Bruno Wu are reportedly working on a television series for Perfect Storm Entertainment, based on material written by Bruce Lee. Not a lot of details about the project, but according to Deadline, Justin could direct the one-hour drama pilot:
Fast & The Furious 6 director Justin Lin and Seven Stars Studios' Bruno Wu's joint venture has partnered with Bruce Lee Enterprises for a TV series based on material written by the iconic Enter The Dragon actor. Details are sketchy on the one-hour drama, but it looks like Lin could direct the pilot, my sources say. CAA is repping the drama and Perfect Storm is planning to begin meeting with potential showrunners soon. This project — a passion for Lee, I've heard - is the first one Lin has formally gotten involved with since F&F6 came out in May.

This isn't Justin first venture into Bruce Lee-related material. He directed the 2007 indie comedy
Finishing the Game
, a mockumentary about an ill-fated attempt to complete Bruce Lee's unfinished film
Game of Death
after the star's untimely passing. Now Justin has the chance to work on an actual project penned by Bruce Lee himself. How cool is that?