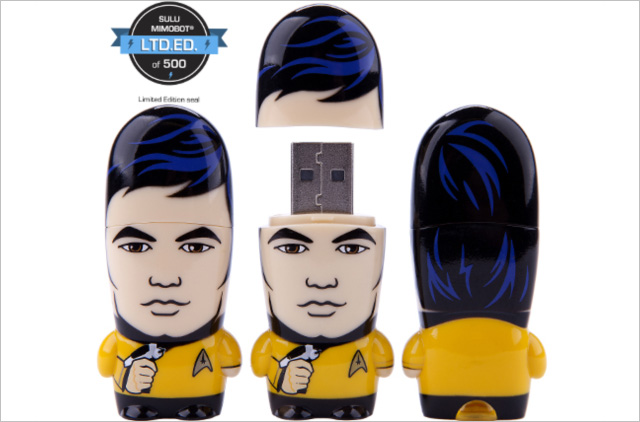 Based on the great response I got from the
Bruce Lee MIMOBOT
giveaway, it seems you like designer USB flash drives. So, my fellow
Star Trek
fans, here's one that you're going to like:
Mr. Sulu MIMOBOT
.
The Mr.Sulu MIMOBOT is a limited edition designer USB flash drive -- limited to 1,000 hand-numbered pieces -- made in the likeness of George Takei from the Original Series (apologies to all the John Cho fans out there). Available in up to 128GB and USB 3.0 capabilities, the Sulu MIMOBOT comes preloaded with a bonus suite of wallpapers, icons, avatars and other digital content. Oh my. So... who wants one?
I happen to have two of these Mr. Sulu MIMOBOTs to giveaway to lucky readers. Here's how to enter:
Step 1:
Follow
@angryasianman
on Twitter.
Step 2:
Tweet this message:
I want to win a Mr. Sulu #MIMOBOT USB Flash Drive from @angryasianman! http://bit.ly/aam-mimosulu
Step 3:
From the entries, I'll randomly pick two lucky Sulu fans, who will each get a Mr. Sulu Mimobot.
Please, only one entry per person/Twitter account. Cheaters will be publicly shamed. The giveaway ends on Monday, August 5, 2013 at 11:59am PST. Winners will receive a Direct Message with further information. This giveaway is open to U.S. residents only. Sorry, rest of the world.
Good luck, Trekkies. And if you're not feeling very lucky, you can always go ahead and order your own Mr. Sulu MIMOBOT directly from the
Mimoco website
.