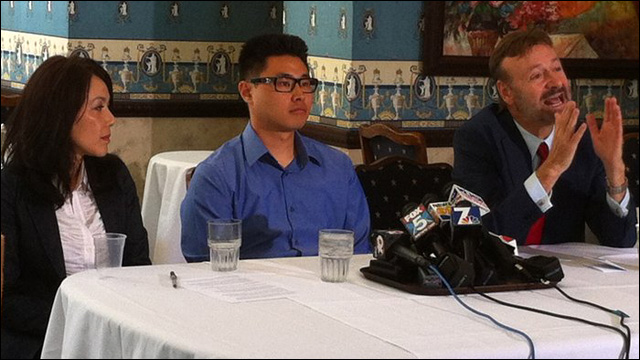 Remember Daniel Chong? He's the San Diego student who was at a friend's apartment smoking some pot last year when Drug Enforcement Administration officers showed up, took him into custody, and threw him in a holding cell... where he was forgotten about and
left for nearly five days
without food and water.
When DEA agents finally got around to re-opening the 5-by-10 cell, they found Chong severely dehydrated, suffering form kidney failure and covered in his own feces. During his horrific ordeal, he began to hallucinate, drank his own urine, and tried to kill himself.
If you think Daniel had some pretty serious grounds for a lawsuit, you'd be correct. He sued the federal government for $20 million, and this week, his lawyers announced that he reached a $4.1 million settlement with the U.S. Department of Justice:
DEA settles left-in-cell case for $4M
.
he agents also found Chong sleeping on a couch in the front room and transported him and six others to the San Diego field office of the U.S. Drug Enforcement Administration for follow-up interviews.

Chong said he answered all of the agents' questions and they agreed to send him home without criminal charges. But instead he was returned to a temporary holding cell, where he spent the next four days without food or water. During the final two days of the ordeal, Chong was in complete darkness, he said.

He has said he became delirious, drank his own urine, ate the broken shards of his glasses and used the glass to cut the message "sorry mom" in his own forearm.

He said he kicked the door and screamed for help but agents never came to his assistance. DEA agents admitted later they "accidentally" left Chong in the cell and took the unusual step of apologizing publicly to the UCSD student.

While his lawyers say he still suffers from post-traumatic stress, Daniel is reportedly in general good health and is back at UCSD studying economics. And a little over four million dollars richer. Use it well, Mr. Chong.
More here:
Daniel Chong, Student Left In DEA Cell, To Get $4 Million From US In Settlement
.