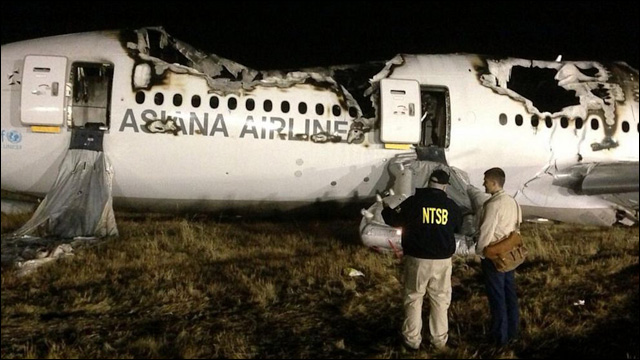 More terrible news... A third passenger in the Asiana Airlines crash has died. The victim, described as a girl under age 18, had sustained serious injuries when Flight 214 crashed landed at San Francisco International Airport last Saturday:
S.F. plane crash: Third victim dies
.
The girl, who had been one of three patients in critical condition at San Francisco General Hospital, died of her injuries on Friday morning. Her family requested that the hospital not release her identity.
Police also confirmed that 16-year-old Ye Meng Yuan, one of the two Chinese teenagers who were killed on the day of the crash, was run over by a firetruck that responded to the emergency. It still isn't clear whether Ye was already dead when she was hit:
Police investigators said Friday that an airport fire rig that ran over Ye apparently hit her after all the passengers had been evacuated. The rig was spraying foam on the fire and was repositioning to get a better angle when Ye was struck, they said.

"It wasn't going that fast," said Officer Gordon Shyy, a police spokesman. "When the firefighters repositioning the truck stopped, they realized there was a deceased person on the ground. She was lying down, covered in foam. They marked it, continued on to fighting the fire and notified the command chain there was a deceased person there."

San Mateo County Coroner Robert Foucrault, whose office performed an autopsy, said Ye had suffered extensive crushing injuries, but does not appear to have been thrown from the airplane at the time of the crash. His investigators have not determined what killed her.

Nearly a week later, and this tragedy still continues to unfold on multiple levels. And yet we have idiot jokers pranking newscasts with
bad racist puns
. More here:
Third victim of Asiana Flight 214 dies; all four runways open at SFO
.