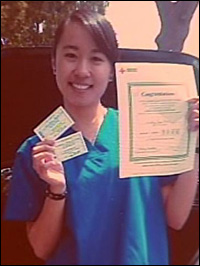 In San Jose, police are asking for the public's help in finding the shooter responsible for killing a San Jose State University student who was shot while riding in a car on Saturday night:
Police Searching for Leads in Murder of SJSU Nursing Student
.
19-year-old Kimberly Joyce Chico, who was studying nursing at SJSU, was in the passenger seat of a friend's car, riding through downtown San Jose, when she was hit by a stray bullet fired by someone outside. She was pronounced dead at the hospital. The driver of the car wasn't injured.
With no motive and no suspects, police believe it's a tragic instance of Chico being in the wrong place at the wrong time:
Chico, who was at first identified by San Jose police as Kimberly Joyce Estrada, was shot at about 1:20 a.m. Saturday in the area of South Second and East San Salvador streets, police Sgt. Jason Dwyer said.

She was in the passenger seat of a car when someone standing outside fired a gun at her, Dwyer said.

"At this point we don't have a motive, we don't have any suspects identified," Dwyer said.

"Whether somebody was shooting directly into the car, or whether it was just driving through as shots were being fired outside the car and she just happened to be there, we don't know," Dwyer said.

"In a case like this, where the homicide detectives literally have nothing to go on, it's always somebody from the community that gives us a kick start and points us in a certain direction with the investigation."

The shooting happened in the area of East San Salvador that has a high concentration of nightclubs and potential witnesses, Dwyer said.

"Somebody saw something, somebody knows something about this case," Dwyer said.

The cops don't have much information to go on, so they're asking if anyone in the downtown area that night might have seen something. To make an anonymous tip call crime stoppers at (408) 947-STOP.
More here:
San Jose: Stray bullet tragically ends life of nursing hopeful
.