Joseph Son is accused of killing his cellmate.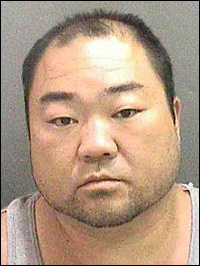 Damn. Remember this scumbag? Joseph Son, the former
Austin Powers
actor-turned-convict, has been charged in connection with the 2011
beating death
of his cell mate in Wasco State Prison:
Former actor could face death penalty in prison killing
.
Son, a former mixed martial arts fighter best known for playing Dr. Evil's henchman "Random Task" in
Austin Powers: International Man of Mystery
, was
convicted of torture
in 2011 after DNA evidence linked him to a 1990 gang rape in Orange County.
About a month into serving his life sentence, Son killed his cell mate. He is now charged with assault by a life prisoner with force causing death. (Basically, murder.) I don't know why it took two years to charge him, though it's not like he was going anywhere. If found guilty, he could face the death penalty:
The reports say prison staff responded to Son's cell at 5:25 p.m. Oct. 10, 2011, for a report of a man down. Son was standing at the door of the cell.

"I told you I need to get out of here," he told an officer, then began washing his hands.

Graham was lying unresponsive on the cell's lower bunk with his eyes and mouth open. Officers handcuffed Son and medical staff worked on Graham, but he was pronounced dead at 5:50 p.m.

The report says Graham died from multiple blunt force trauma.

This guy is bad. Nothing else to say. More here:
Former movie actor charged with murder
.