Producer Chops brings together "more names than you can fit in your homie's Honda Civic."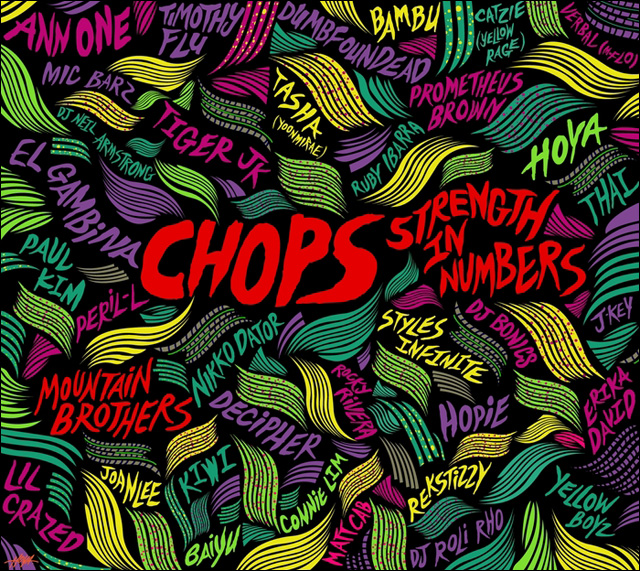 Here is an awesome music project worthy of your crowdfunded dollars... Hit producer Chops, who once upon a time made music as part of the pioneering hip hop trio the Mountain Brothers, has spent the last two years working on
Strength in Numbers
, an epic collaboration with over 30 Asian American artists from across the U.S. (with special appearances from Japan and Korea) -- including former cohorts Peril-L and Styles Infinite.
That's right -- Mountain Brothers reunion! The project also includes "more names than you can fit in your homie's Honda Civic," including Ann One, Baiyu, Bambu, Catzie of Yellow Race, Connie Lim, Decipher, DJ Bonics, DJ Neil Armstrong, DJ Roli Rho, Dumbfoundead, El Gambina, Erika David, Hopie, Hoya, J-Key, Joanlee, Kiwi, Lil Crazed, Matt Cab, Mic Barz, Nikko Dator, Paul Kim, Prometheus Brown, Rekstizzy, Rocky Rivera, Ruby Ibarra, Yoonmirae, Thai, Tiger JK, Timothy Flu, Verbal of M-Flo/Teriyaki Boyz and Yellow Boyz.
This is a big deal. Watch this video for more information:
Putting together something like takes a lot of time, energy, coordination... and money. To cover the costs, Chops is asking for your support through a
Kickstarter
campaign. "Strength in Numbers" is not only the title, but it also refers to how your support can help make this project a reality.
The goal is to raise $25,000 by November 2. If you think this sounds like a dope project, and if you're a fan of any of the artists involved, the least you can do is plunk down ten bucks for a digital download of the album. For further information, and to make a pledge, head over to the
Strength in Numbers
Kickstarter
.