Executive producer Steven Bochco's crime drama to premiere in summer 2014.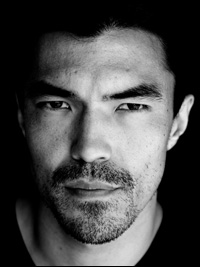 Some TV casting news... Just saw that Ian Anthony Dale is in the cast of
Murder in the First
, a new scripted series picked up by TNT from executive producer Steven Bochco:
TNT Orders Steven Bochco Drama Murder in the First
.
The cable network as has ordered ten episodes of the crime drama, which is a murder mystery set in San Francisco and Silicon Valley, and will follow a single homicide case across an entire season.
The cast also includes Taye Diggs, Kathleen Robertson, Tom Felton, Mimi Kirkland, Raphael Sbarge, Bess Rous and Steven Weber. Ian will play Lt. Jim Koto, because every cop squad needs a supervisor.
Here's some more information about the show:
Set in San Francisco, Murder in the First will follow a single case across an entire season. The drama centers on homicide detectives Terry English (Diggs) and Hildy Mulligan (Robertson) as they investigate the murder of an apparent drug addict. The mystery deepens, however, when the victim is found to have a connection to Silicon Valley wunderkind Erich Blunt (Felton), the celebrated CEO of a cutting-edge tech firm. The timing couldn't be worse for Blunt, who is preparing to take his company public. He's also being sued by a software developer who claims Blunt stole his code for a revolutionary new hologram system.

Terry and Hildy's fellow detectives in their squad include philosopher-cop David Molk (Sbarge) The squad is supervised by Lt. Jim Koto (Dale). On the home front, Hildy is a single mom with an inquisitive daughter (Kirkland). Terry, meanwhile, is struggling to take care of his terminally ill wife, Emily, played by guest star Anne-Marie Johnson (JAG, In the Heat of the Night). Working for Blunt are Bill Wilkerson (Weber), his driver and pilot, and Ivana West (Rous), the company's chief technology officer.

The series is slated to premiere on TNT in summer 2014.
No further details on Ian's role, though I remember correctly, this marks a reunion of sorts for Taye Diggs and Ian Anthony Dale, who both starred in the short-lived series
Day Break
way back when.
By the way, if this show is set in the Bay Area, there should be waaaaay more Asian characters.
More here:
TNT Greenlights Steven Bochco's 'Murder In The First' For Summer 2014
.