Last seen Saturday morning in Los Angeles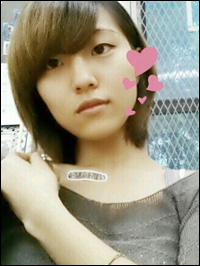 In Los Angeles, authorities and loved ones are asking for the public's help in locating a 19-year-old student who has been missing since Saturday:
LAPD seeks public's help in finding woman reported missing
.
Janet Ji Young Choi was last seen at her home in Los Angeles on Saturday morning. According to police, she never showed up to her scheduled art class at InArt Studio that afternoon, didn't attend class Monday morning at Fairfax High School, and hasn't been in contact with family or friends.
"She wants her daughter back without any problem," said family friend John Kang. "Since Saturday, there has been no contact whatsoever. That's why her mother is really worried."

Lee said she has checked in with all her daughter's friends. She added that Choi doesn't have a boyfriend or a Facebook page.

"She's shy, never outgoing, and more of a regular school girl who doesn't go out and party or anything like that," said Kang.

Police searched Choi's computer, but didn't find anything. As of now, they have no reason to suspect foul play.

Choi is described as Korean, 5 feet 3 inches tall, around 90 pounds, with black hair and brown eyes.
Anyone with information regarding her whereabouts is asked to call Det. A. Mercado of the LAPD's Missing Persons Unit at (213) 996-1800 during business hours, or 877-527-3247 at other times.
Tipsters who wish to remain anonymous can call Crimestoppers at 800-222-8477 (800-222-TIPS) or send a text to 274637 beginning with the letters "LAPD." You can also leave a tip at LAPDOnline.org.
More here:
Mom Desperate To Find Missing 19-Year-Old Daughter
.
UPDATE: Janet has reportedly returned home to her family:
Missing East Hollywood Teen Returns Home
.