Police manhunt underway for alleged shooter Sang Ho Kim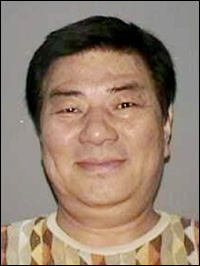 Dammit. In Long Island, authorities are searching for a suspect who opened fire this morning at an office building, killing one person and seriously injuring another:
Man Shoots 2, Killing 1, in Long Island Office Building Near Mall
.
64-year-old Sang Ho Kim, described as a "disgruntled business associate," walked into the office of the SavEnergy light fixture company in East Garden City and opened fire, shooting two people over an apparent business deal gone bad. One employee was killed, and the company's owner, John Choi, was critically injured.
As of Wednesday night, a massive manhunt involving local and state police, as well as the Federal Bureau of Investigation, had not located Mr. Kim. He is considered armed and dangerous.
Sang Ho Kim, a 64-year-old Queens resident, allegedly walked into Savenergy at 645 South St., around 10:10 am and shot two employees, police said. The company is located in a single-story commercial building in East Garden City, near the shopping center.

The spasm of violence caused an immediate lockdown of the large mall and nearby schools as police conducted a detailed search of the area.

At a news conference, police said they believe Mr. Kim has been working as a vendor to the company and that he allegedly targeted it.

"At this point and time we believe that this suspect is armed and very dangerous," Nassau County Police Chief of Department Steven Skrynecki. "Right now we are involved in a very massive hunt for this individual."

According to Nassau County police, Kim was dressed in a red shirt and gray or brown jacket, and fled the scene in a white Honda Pilot with New York license plate number FMA-3648. Stay tuned.
More here:
One Dead in Shooting Near Long Island Mall
.