The segment claimed a Sydney shopping center was being overtaken by Asians.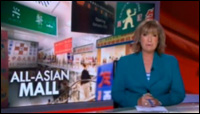 News of racist television from down under... In Australia, Channel Nine's
A Current Affair
issued an on-air apology for a racist, incendiary segment that claimed a Sydney shopping center was overtaken by Asian retailers:
A Current Affair breached code with 'All-Asian Mall' story
.
The story, "All-Asian Mall," which aired last November, used inflammatory language and negative misinformation to drive home the impression that Asian shopkeepers were "taking over" a shopping center in Castle Hill, Sydney. The segment also included commentary from controversial former politician Pauline Hanson, who once warned of Australia being "swamped by Asians."
The Australian Communications and Media Authority ruled that the story related inaccurate factual material, placed "gratuitous emphasis" on ethnic origin," and provoked "serious contempt" of someone's ethnic origin. In other words, it was racist bullshit.
Here's the perfunctory on-air apology:
Following the screening of the piece on 7 November last year, Channel Nine and Ben McCormack, the reporter who conjured up the story, were deluged by complaints from shop owners and local residents.

ACMA found there were multiple inaccuracies in the story, such as the claim that Asian speciality shops would occupy "almost all" of the lower level of Castle Mall in Castle Hill. In fact, just four out of 16 retailers were to be Asian-focused shops.

A reference to "Aussie shopkeepers" being "kicked out" was also false, ACMA ruled.

The communications watchdog said the piece was guilty of conveying "negative misinformation" and "inflammatory language" about Australians of Asian ethnic origins. A Current Affair had used language that implied people of Asian origin didn't belong in Australia, ACMA added.

Yup. Australian TV can be just as racist as American TV. Good to know!
More here:
'All-Asian Mall' story breached three media codes
.