Judge rules hot sauce factory can stay open.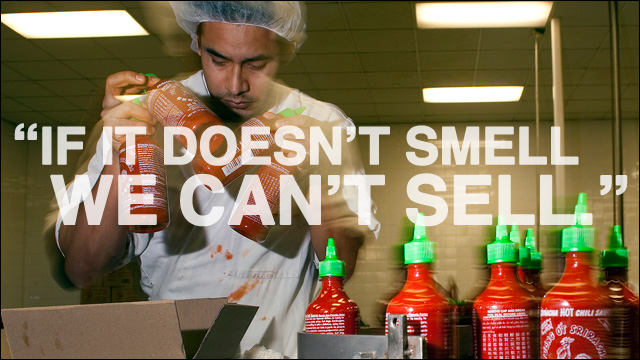 It's all good, hot sauce fans. I think you can hold off on your plans to stockpile all those green-tipped bottles of Sriracha... for now. A judge has ruled that the production plant in Irwindale, California, where they make the sweet spicy red goodness, can stay open:
Sriracha factory can stay open for now, judge rules
.
The city of Irwindale
filed a lawsuit
earlier this week against Huy Fong Foods after residents complained of the strong odor of ground peppers emanating from the factory. Some nearby residents complained of burning eyes and throats, and the city claimed the plant was a public nuisance in violation of municipal code.
But on Thursday, a Los Angeles County Superior Court Judge denied the city of Irwindale's request for a temporary restraining order, which means the factory can finish processing the peppers needed for next year's Sriracha supply. Odor problem? What odor problem? All I smell is the awesome scent of rooster sauce:
In a declaration filed on behalf of the company, lawyer John R. Tate said that air-quality regulators had placed monitoring equipment at the plant and that shutting the factory down would prevent that analysis from being completed.

Initial reports from air quality inspectors found no detectable odor 20 feet from the exhaust system, according to the declaration. Odors were also not detected in nearby streets around the factory. The inspectors found a mild chile odor in the factory's lobby, rated a one on a scale of one to ten. Near the exhaust hoods where chiles are ground, inspectors rated it three, the declaration said.

A hearing has been set for November 22 to determine whether the factory is indeed too stinky, and if it should be shut down to fix the alleged odor problem. I say the stinkier the smell, the better the sauce!
Or as David Tran, CEO of Huy Fong puts it, "If it doesn't smell, we can't sell."