Presented by Visual Communications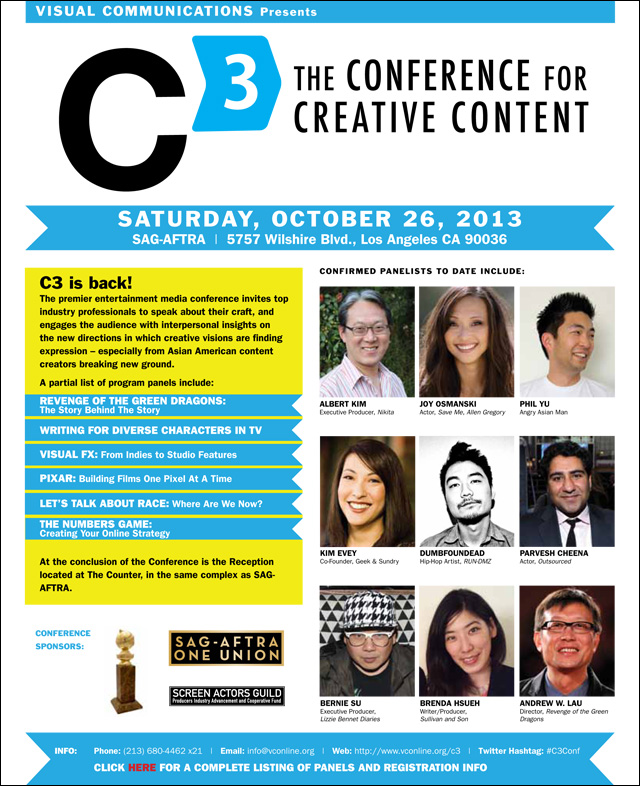 Hey, Los Angeles! Visual Communications presents the 3rd annual
C3: The Conference for Creative Content
, the premiere digital media and content conference happening October 26 at SAG-AFTRA.
C3 will shed light on the changing nature of entertainment media and allow larger audiences to connect with Asian American talent through a diverse array of panels, seminars and features approaching media platforms from all angles. This year, they've put together another great lineup that further expands the conversation.
Here's a brief
trailer
for the conference:
Here are some more details and highlights:
VISUAL COMMUNICATIONS PRESENTS

C3: CONFERENCE FOR CREATIVE CONTENT
OCTOBER 26, 2013

SAG-AFTRA
5757 Wilshire Blvd.
Los Angeles CA 90036

Conference Highlights:

- Revenge of the Green Dragons - Executive Produced by Martin Scorsese, this film chronicles the rise of the Chinatown gang in NYC in the 80s. Director Andrew Lau (director of Infernal Affairs that Scorsese based The Departed from), the writer, producers and actors are scheduled to appear.

- Pixar - Technical Directors from Pixar are coming to show how the animation process works, specifically with the movie Up.

- Let's Talk About Race - Phil Yu (Angry Asian Man) and producer Karin Chien will join a panel of academics and creatives to discuss how race, especially with APIs, is being portrayed in the media.

- Visual FX, Indie and Studio - VFX Supervisors from the independent world and big budget tent-pole films discuss the industry, the future and the practicalities of working in both realms.

- Writing for Diverse Characters in TV - Writers/producers from hit shows such as Hawaii Five-O, Sullivan & Son, Nikita, and The Walking Dead will discuss what happens in the writers room and issues dealing with writing for diverse characters.

- Creating Your Online Strategy - Successful creators and producers of the largest viewed online content will delve into the numbers and strategy that keep them on top.

It's going to be an awesome conference, and I hope you'll be able to join us. Get yourself registered! For more information, including the full schedule and list of participants, go to the Visual Communications
website
.