Charges against second biker dropped, while another is in coma.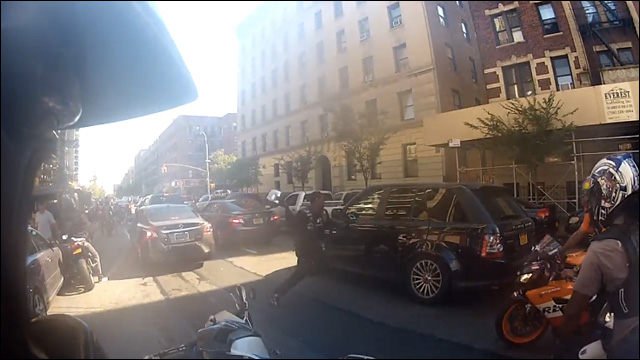 More on that
crazy road rage motorcycle altercation
that went down last weekend in Upper Manhattan, where a pack of motorcyclists chased down Alexian Lien, dragged him out of his Range Rover and attacked him in front of his wife and 2-year-old daughter. So far,
two bikers have been arrested
in connection with the incident, but the investigation is ongoing.
By now, you've seen the
video
.
28-year-old Christopher Cruz, the guy who can be seen cutting off and getting bumped Lien's SUV at the start of the incident, was
arrested
for his role in the initial accident. He was charged with reckless endangerment, reckless driving, endangering the welfare of a child and menacing.
A second biker, 42-year-old Allen Edwards, turned himself into police. He's the guy in the video pounding on the SUV with his hands as another rider smashes the driver's side window with his helmet. Edwards originally faced charges of reckless endangerment, criminal mischief and menacing, but the charges against him have reportedly
been dropped
pending further investigation.
Another rider, 32-year-old Edwin Mieses,
is in a coma
after suffering broken legs, broken ribs and a broken spine that may ultimately leave him paralyzed. He and another biker were struck by the SUV when Lien hit the gas and fled the scene of the accident. Mieses has hired
celebrity attorney Gloria Allred
.
Meanwhile, the Lien family has a
released a statement
through their attorneys:
Our plan last Sunday was to celebrate our wedding anniversary by having a nice family day out with our two-year-old daughter. Unfortunately, instead, we were placed in grave danger by a mob of reckless and violent motorcyclists.

Our sympathies go out to the injured motorcyclist and his family. However, we were faced with a life-threatening situation, and my husband was forced under the circumstances to take the actions that he did in order to protect the lives of our entire family. Our fear for our lives was confirmed when the incident ended with the ruthless and brutal attack on my husband, me, and, most importantly, our two-year-old child. We know in our hearts that we could not have done anything differently, and we believe that anyone faced with this sort of grave danger would have taken the same course of action in order to protect their family.

We would like to thank the brave citizens who risked their own safety to intervene on our behalf. They truly helped save our lives and prevented my husband from suffering further injury. We also appreciate and are moved by the outpouring of love and support so many have expressed here in New York and around the country.

We would ask that the public and the media to respect our privacy at this difficult time and allow my husband to recover from his injuries. From here on forward we would ask that any further inquires regarding this unfortunate incident be directed to our lawyers Nicholas J. Massimo and Frank C. Panetta.

Police have stated that Lien is not expected to be charged, but again, the investigation is still ongoing.
The video does not clearly depict the actions of the motorcyclists at that point. But the police said the driver of the S.U.V., Alexian Lien, 33, quite likely feared for his safety as he sat in the vehicle with his wife and 2-year-old daughter — his car stopped and surrounded. One of the riders smashed the Range Rover's driver side mirror, the police said.

Leaving the scene of an accident can be justified if the driver feels threatened by a menacing mob, prosecutors said. "If you are being physically threatened, the law doesn't contemplate that you have to remain at the scene," said Maureen McCormick, a former vehicular crimes prosecutor in Brooklyn.

The NYPD is asking for the public's help in identifying and locating additional suspects wanted in connection with the attack. Anyone with information regarding the incident is asked to call Crime Stoppers at 1-800-577-TIPS (8477). The public can also submit tips by logging onto the Crime Stoppers website or by texting their tips to 274637 (CRIMES) then enter TIP577.