16-year-old stood up to the Taliban, schools Jon Stewart.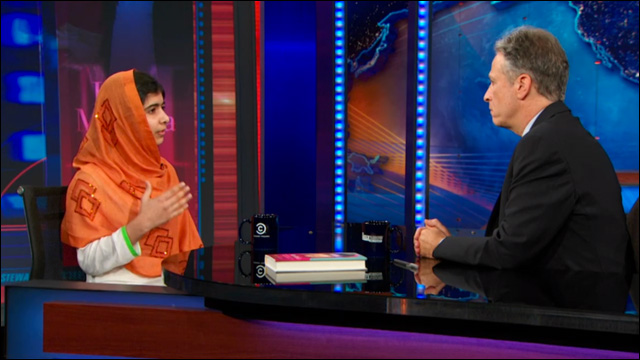 On Tuesday, Comedy Central's
The Daily Show
welcomed 16-year-old Malala Yousafzai, one of the most badass people to walk this earth, for one the most inspirational television interviews ever.
A year ago, Malala was shot in the head by a gunman after her public fight for the right of girls to get an education put her in the crosshairs of the Pakistani Taliban. But she survived. Today, she is the youngest person ever to be nominated for a Nobel Peace Prize, and her memoir,
I Am Malala
is out this week.
Like I said, badass. Watch this
extended, unedited interview
as host Jon Stewart is visibly moved, humbled and at points left speechless by this courageous young woman:
More here:
Malala Yousafzai: Accolades, applause and a grim milestone