Behind-the-scenes documentary tells the amazing underdog story of Jeremy Lin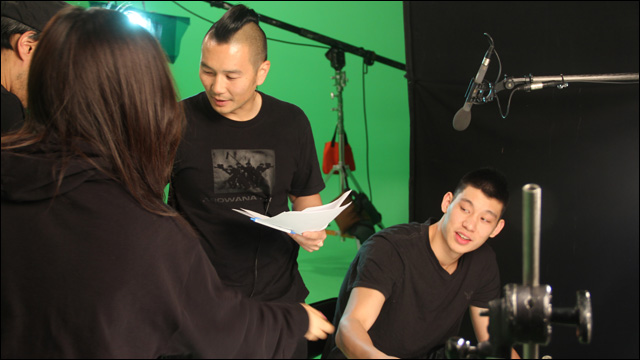 The weekend box office was good to the
Linsanity
team. The indie documentary feature scored big, earning $103,000 on just nine screens, with a
per-screen average
of $11,444 -- second only to overall box office winner
Gravity
, which averaged $15,538 on 3,575 screens. I'd say that's a big win:
Specialty Box Office: 'A Touch Of Sin' Capitalizes On New York Film Festival Buzz, 'Linsanity' Docu Solid
.
I thought this might be a good opportunity to repost my Sound and Fury podcast conversation with
Evan Jackson Leong
, director of
Linsanity
. He drops some interesting details on forging a relationship with Jeremy Lin, getting the inside track on "Linsanity" and the long, patient road to making the documentary. Here are some cuts from our conversation...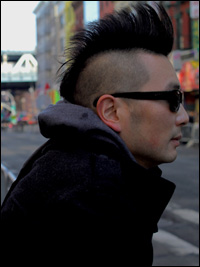 On starting production long before Jeremy Lin was a household name:
We started his senior year at Harvard. There were certain things about him I could really connect to and relate to. He grew up in the Bay Area. He's Asian American. The way he played -- he wasn't just a one-dimensional 7-foot-6 center, and he wasn't just a shooter. He was a guard. He led the team. He was a leader. He was doing everything. And then I saw him dunking... he had some crazy dunks! For me, I'd never seen that. I mean, I'd seen Asian American guys dunk, but I'd never seen it done with that kind of aggression, playing on the mainstream level... We'd never seen that before. If anything, at least, a slow-motion [shot] of him dunking is going to inspire millions of kids. "Wow, if he can dunk, maybe I can try that." And what he could potentially represent for the Asian male was really interesting for me, because I've always looked up to basketball players and I never got to see someone like him.
On why Jeremy Lin first said "no" to turning the cameras on him:
Initially Jeremy was like, "Nah." Kind of cold off that. All he wanted to do was play basketball. I think that's the thing we always forget. He represents, and he has this huge responsibility for the community as a role model and an icon and all these things, and he does it outstandingly. But when you grow up playing basketball your whole life, that's not your dream. Your dream is not to be a role model or an icon. It's not your dream to have to cover your face when you go out to eat In N Out. That's not part of [the dream]. You don't even think about that. No one strives for that. He just wanted to play basketball. And especially at that time, when he was at Harvard, there was talk of him possibly going to the NBA. He knew how much better he had to get. He was like, "I just want to focus on basketball."
On working on a pre-"Linsanity" documentary with no apparent ending:
Our project had been shooting for three years. We didn't know where it was going. He kept getting cut. Hanging out and talking with Jeremy, he wasn't very happy. When he got traded and picked up by New York, I was like, "Cool, man! We can hang out!" He was like, "Yeah, I guess." He wasn't too happy. He got cut from his hometown team. That hurts, for your dream to be taken away from you.
So [the producers and I] met, we were like, "Let's wrap this up." We didn't know where the story was going, or if there was going to be an ending. But we knew there was potential for this in Asia. We'd already seen that people love him in Asia. With the internet age and all, there's potential for sponsorship, click-through, YouTube money, all that kind of stuff -- just to at least cover our costs. We had like eight clips, we could do eight minutes each, and break parts of his life -- high school, college, NBA, faith, video games. Just different things that represented him. Add some faith elements in there, some quotes, stuff like that. And we were all ready to wrap that up and move on. But a week later... February 4th.
On being in New York City, ground zero for "Linsanity":
We all won. We were winning. That was the craziest thing. Asian Americans were winning. That's what it was. New York felt like an 80s movie, where people were on the street and just talking about the game, giving people high fives. Taxi drivers, they didn't know I was making a documentary on Jeremy Lin, but they wanted to talk to me about him. "Dude, your boy's doing great. Your boy's killing it." The great thing about New York was that old school community word of mouth still exists... you get in the subway, you see those ridiculous headlines they love putting out. It just felt like an 80s movie.
On re-capturing the excitement of "Linsanity":
Ultimately for me, that was one of the biggest things. How do we get to relive that in a film? And more importantly, what it meant to Jeremy in that moment, and everything he went through leading up to that. If you can feel what we all felt in 2012, just for a second, then we did our job. That was one of the main goals for us.
Listen to the full conversation with Evan Jackson Leong on the Sound and Fury podcast.