Several suspects identified... plus an undercover cop(!) at the scene.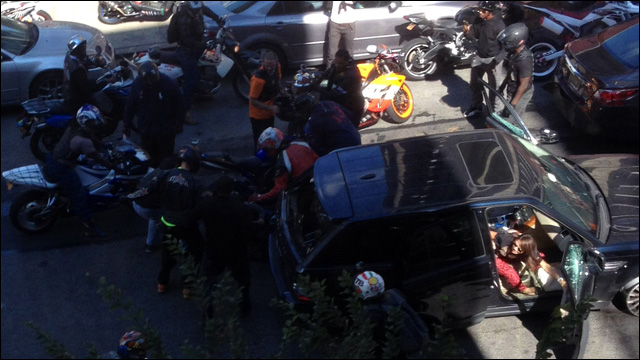 More developments in the crazy biker chase road rage incident on the West Side Highway...
Police have reportedly identified one of the prime suspects directly involved in dragging driver Alexian Lien from his SUV and beating him:
New York road-rage suspect identified in beating of SUV driver
.
Also, the biker who allegedly opened the SUV's door at an earlier point during the chase, is now in custody.
Meanwhile, an off-duty undercover detective has informed Internal Affairs that he was present at the time of the confrontation between the bikers and Lien:
Another in custody, undercover cop among bikers
.
If you haven't been following what went down last Sunday, the abridged version: A motorcyclist, riding with a pack, brake-checks a Range Rover and gets hit. Bikers surround the SUV. The driver -- who's with his wife and 2-year-old daughter -- takes off, plowing through several motorcycle riders and sparking
a crazy pursuit on the West Side Highway
. Driver gets chased down, pulled out of his car and beaten in front of his family.
For your reference, here's the helmet-cam
video
.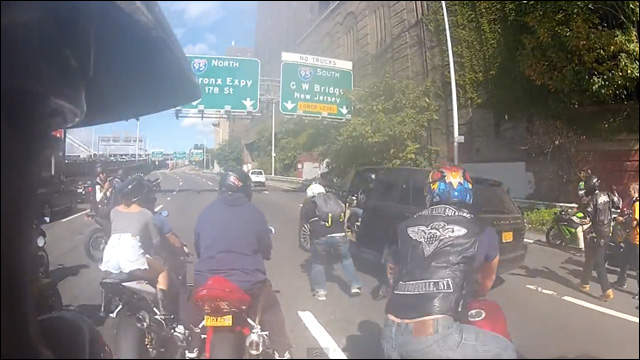 According to law enforcement officials, 38-year-old Reginald Chance was the guy caught on camera bashing in the front-side window of the Range Rover with his motorcycle helmet before Lien was dragged out of the driver's seat and attacked. Chance is expected to turn himself in to authorities.
Another suspect, 35-year-old Robert Sims surrendered to police in Brooklyn earlier today. He's the biker who is seen in the video (at 5:05) grabbing the SUV's door and trying to open it just as the car takes off again. According to police, they have photographic evidence that he also participating in the attack on Lien.
And in another weird wrinkle to this crazy-ass case, an unidentified undercover NYPD narcotics officer has come forward saying he participated in the motorcycle ride, off-duty, and was on the scene when Lien was assaulted. He apparently didn't get involved because he didn't want to blow his cover.
More here:
Undercover cop was on scene when bikers beat Range Rover driver: officials
.
Detectives are also still looking at about a half dozen other bikers who may have had a role in the assault, as well as two bystanders who may have gotten a closer look at what happened. Anyone with information regarding the incident is asked to call Crime Stoppers at 1-800-577-TIPS (8477).