"Wonder if thy have McDog at McDonald's here as well"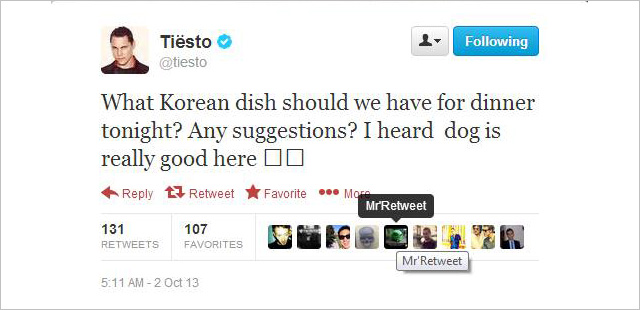 Electronic music artist Tiësto is currently on tour, making his way through Asia. Last night he was in Seoul... which, of course, meant he had to make a Twitter joke about eating dogs. He just could not resist! I mean, you're an asshole DJ dude in Korea, so that's what you have to do, right? I wonder how long he waited before he got off the plane. First the tweet above, then followed up with this one to his 2 million+ followers: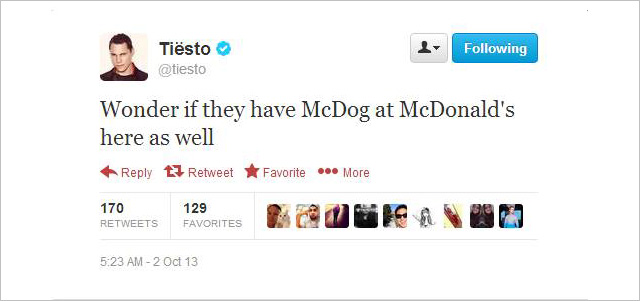 Damn, you're hilarious, Tiësto. It's like no one has ever made that joke before.
Alas, it seems that not all of his electronic dance music-loving followers appreciated the joke. (Or was he actually being serious/insane-ass ignorant?) Both tweets appear to have since been deleted from his timeline without comment. Just this tweet extolling virtues Korea's people and food: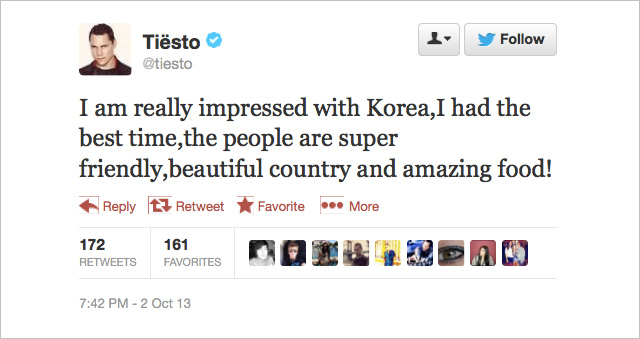 But don't worry, next stops are Manila, Jakarta and Kuala Lumpur. Plenty of more opportunities to offend.
(Thanks, Michael.)