Police have now arrested six bikers in connection with the assault on Alexian Lien.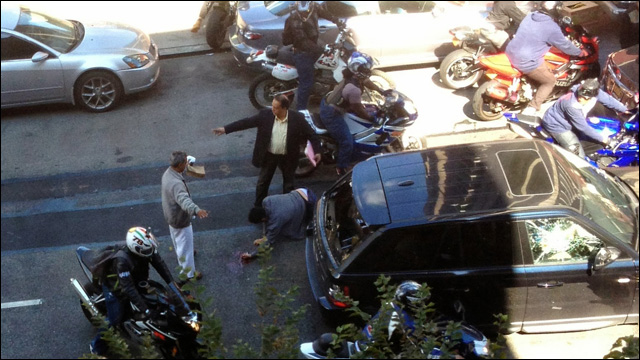 Another update on the crazy biker chase beatdown... This case has had so many weird developments and multiple suspects -- including several friggin' undercover cops -- it's hard to keep up.
An undercover police detective and another man were arrested Tuesday in connection with the motorcycle mob attack on driver Alexian Lien, who was dragged from his car and beaten by a group of bikers last week in Manhattan:
Undercover Cop Among Latest Arrests In Manhattan Motorcycle Melee
.
For those who are not quite up to speed with this story, the abridged version... A motorcyclist, riding with a pack, brake-checks a Range Rover and gets hit. Bikers surround the SUV. The driver -- who's with his wife and 2-year-old daughter -- takes off, plowing through several motorcycle riders and sparking
a crazy pursuit on the West Side Highway
. Driver gets chased down, pulled out of his car and beaten in front of his family.
For your reference, here's the helmet-cam
video
that got everybody's attention. And here's new
video
that catches the tail-end of the assault, with Lien left beaten and bloody on the ground:
32-year-old Detective Wojciech Braszczok, who was riding with the pack at the time of the altercation, surrendered himself after initially lying to police about his participation in the incident. Surprise! He was caught on video punching at the SUV's windows moments before Lien was pulled from the vehicle and beaten. The 10-year NYPD veteran was charged with riot and criminal mischief.
The crazy thing is, Braszczok wasn't even the only cop who participated in the ride. Investigators traced one of the motorcycle's license plates to NYPD Detective Samir Gonsalves, who apparently took part in the wild ride but down the beatdown, while off-duty.
Meanwhile, police also announced that they've arrested 32-year-old Clinton Caldwell -- the sixth biker charged in connection with the attack on Lien. He's been charged with gang assault, assault, and criminal mischief.
Christopher Cruz, 28, who
brake-checked Lien's Range Rover
, causing the initial crash that set off the entire incident, has been charged with reckless endangerment.
Reginald Chance, 38, who can be seen in the video smashing in the driver's side window of the SUV with his helmet, has been charged with gang assault, criminal possession of a weapon, and criminal mischief.
Robert Sims, 35, is the biker who is seen in the video grabbing the SUV's door and trying to open it just as the car takes off again. He has been charged with gang assault, weapons possession and other offenses.
Craig Wright, 29, was seen on new video obtained by police punching Lien in the face through the car's shattered window, and stomping on Lien at least twice while he was lying on the ground. He was arrested on Monday and charged with gang assault, assault, and unlawful imprisonment.
More here:
Undercover Detective Is Arrested in Attack on S.U.V.