Ready to bring great independent cinema to your hometown?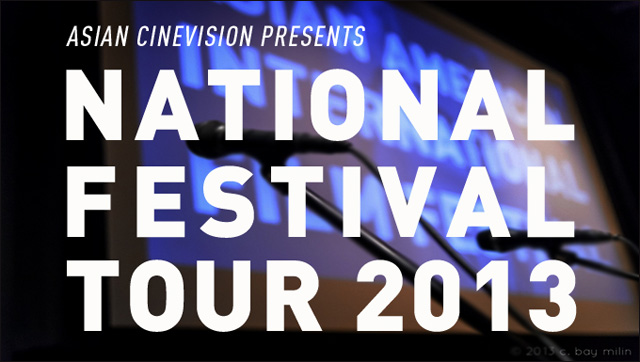 Want to bring a feature from this year's Asian American International Film Festival to your town? The
AAIFF National Festival Tour
is happening now, and you can book your favorites of the six features or nine shorts for a conference or nonprofit gathering. The programs cater to Asian American history and representation, queer culture, youth culture, and much more:
AAIFF'13 NATIONAL FESTIVAL TOUR
The gems of AAIFF'13 now available on the National Festival Tour! Book your favorite now!

Featuring the year's best independent cinema - six narrative and documentary features and nine shorts programs from AAIFF13, the National Festival Tour offers institutions and organizations the rare opportunity to bring the newest, the most original and diverse independent Asian and Asian American films to local communities across the country.

The programs cater to interests in such areas as Asian American history and representation, contemporary Asian culture, urban culture, youth culture, international politics, identity politics, queer culture, non-fiction media arts, etc - and more possibilities will arise when you mix and match! Check out what is available as well as the rental details at the AAIFF13 National Festival Tour page. Contact: programs@asiancinevision.org.

You can browse the list of films
here
. To book a film, contact programs@asiancinevision.org