Save the Date: August 14-17, 2014 #BKA14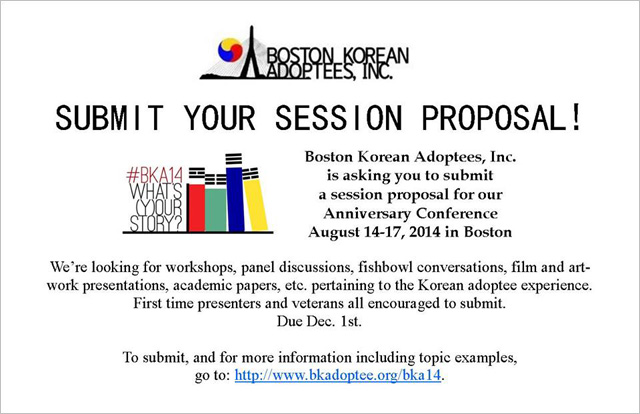 This call out is waaaay last minute, but I'm catching up on old emails and want to make sure the right folks get the chance to take part in this... Boston Korean Adoptees, Inc. (BKA) is hosting an
international conference
for Korean adoptees in Boston, August 14-17, in celebration of BKA's 10th anniversary.
They're currently looking for artists, poets, scholars and others to submit workshops, panels and presentation proposals for the conference. But the deadline is this Sunday, December 1, so you'll have to hustle a little.
Here's some more information on what they're looking for:
We are also accepting proposals for general workshop sessions. Your proposal can be a panel discussion, presentation, workshop, or just about anything else that is related to the adoptee experience. Here are some topic examples that you might choose to submit in your proposal. Please note that these are only examples and not preferred topics:

-Identity
-Race
-Gender
-Sexual Orientation
-Visiting Korea
-Repatriation to Korea
-Readjusting to Life After Korea
-Parenting as an Adoptee
-Adoptive family relations
-K-POP
-Korean Films
-Korean Cooking
-Dual citizenship
-Unwed mothers in Korea
-The future of Korean adoption
-Birth Family Search (Reunion and Non-Reunion)
-Learning the Korean Language
-Relationships and Dating
-Mental Health

We welcome new ideas, new topics, and new perspectives.

To submit a workshop proposal, fill out the
application form
.
The conference is about sharing the power of narratives, so they're also putting the call out for submissions to the conference's Digital Story Project, which allows adoptees to share their stories with each other and with the world. Adoptees can submit their 90-second digital stories to the BKA website. Here's some more information:
This conference seeks not only to celebrate and share the stories of BKA, but also the rich history and stories of adoptees from all over the world, in order to better understand ourselves and the international community we have created together. Wherever you are in your journey as an adoptee, this conference aims to provide a fun and safe space for you to share your story.

Storytelling has its roots in just about every culture. Through storytelling, we learn, we are inspired, and we grow. The adult Korean adoptee community has grown dramatically over the past 20 years with the rise of the internet and social media. Today, adoptees from all over the world are able to connect online through Facebook and other social media outlets to share their stories. We hope that you'll share your story with us and in doing so, you'll inspire others to tell their stories. In order for us to share our stories at this international event, we are asking attendees to submit a Digital Story.

To submit a Digital Story, simply create a 90-second video, upload it to YouTube, and paste the YouTube video link into your application. Your video can be a story, a conversation, photos, artwork, music, or just about anything else that is relevant to your identity as an adoptee. Feel free to be creative.

There is no fancy video editing required to submit a video. Your video can consist of just about anything you like — narrative, poetry, artwork, music. Your Digital Story can be only audio with a still image in the background if you wish. However you decide to create your digital story, it must be uploaded to YouTube as a video and pasted into your application.

Your Digital Story will be shown at various times throughout the conference on video monitors. Several Digital Story applicants may be chosen to be featured in an interactive plenary session.

To submit a Digital Story, fill out the application
here
.
And be sure to save the date! The conference is going down August 14-17, 2014. For further information, visit the
BKA14 website
, or follow updates on the conference
Facebook page
.