Ambassador will leave Beijing post in early 2014 to rejoin family in Seattle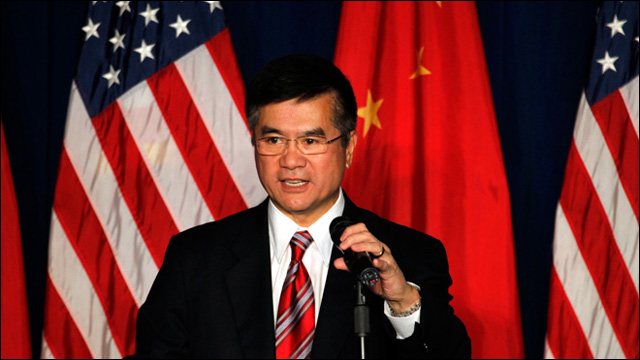 Gary Locke, the American ambassador to China, has announced that he intends to step down from his post early next year to rejoin his family back in the United States:
U.S. Ambassador to China Gary Locke to step down, rejoin family in Seattle
.
Locke, the first Chinese American ambassador to China, has held the post since August 2011. He reportedly informed President Obama of his decision when they met earlier this month.
The Atlantic
praises Locke's service in China as "a blueprint for managing Sino-American relations." Among his accomplishments during his tenure as ambassador, Locke is credited with cutting waiting times for U.S. visas to three to five days, down from 70 to 100 days when he took over.
But Ambassador Locke might be best remembered in China for an
awesome photograph
of him at the airport, carrying his own backpack and getting his own coffee. The photo, taken before he even arrived in China, caused a social media stir, painting the new ambassador as a down-to-earth dude.
Here's Ambassador Locke's statement on his decision to step down as U.S. Ambassador to China:
Serving as the U.S. Ambassador to China has been the honor of a lifetime. I am profoundly grateful to President Obama for providing me the opportunity to serve as his representative in Beijing these past two and a half years – and to be the first Chinese-American to hold this position. Helping manage one of the most vitally important bilateral relationships for the United States, with so many critical American interests at stake, has been an immense and rewarding challenge. And living in China while representing the United States has truly been an exciting privilege for our entire family.

When I met with President Obama earlier this month, I informed him of my decision to step down as Ambassador in early 2014 to rejoin my family in Seattle.

I am extremely proud of the work of our staff at the U.S. Embassy and Consulates in China and what we have been able to accomplish together on behalf of the American people and for U.S.-China relations.

Our efforts have focused on job creation in America by increasing exports to China, opening more markets for American companies, and promoting Chinese investment in the U.S. We have significantly increased Chinese business and tourism travel to the U.S. by dramatically reducing wait times for a visa to 3-5 days from historical highs of 70-100 days. And we have advanced American values by meeting with religious leaders and human rights lawyers, and visiting Tibetan and Uighur ethnic minorities in Tibet and Xinjiang.

Finally, as I reflect on my tenure as Ambassador, I do so knowing that U.S.-China relations continue to grow stronger. While our bilateral relationship is a complex one, I remain confident in the ability of our leaders to manage differences and increase cooperation in areas of mutual concern to the benefit of not just our two great peoples, but the entire world.

More here:
In Praise of Gary Locke, the Best Ever American Ambassador to the P.R.C.
And here:
The five craziest moments from Gary Locke's tenure as U.S. ambassador to China
.